---
Israeli Army Forms 'Settler Militias' For Remote Communities 
The Israeli army is recruiting settlers who have not undergone military service in order to post them as "defense militiamen" in the settlements they reside in, Hebrew newspaper Haaretz reported on 2 November. 
"The recruits are expected to undergo accelerated basic training for three weeks, after which they will be armed and stationed in the settlements," the report says.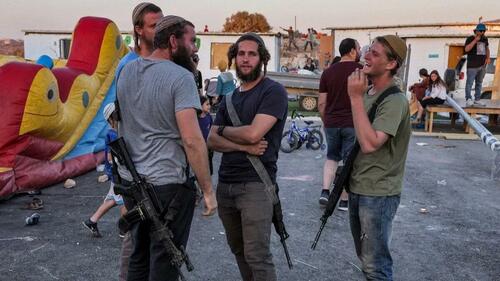 Settlers between the ages of 27 and 50 who have not completed their military service will be eligible to apply for the program. 
"Candidates were asked to fill out a form to indicate, among other things, their religious affiliation such as ultra-Orthodox, national-religious, national ultra-Orthodox, religious or other." 
The settlements in question are the ultra-Orthodox West Bank settlements of Ibei Hanachal, Ma'ale Amos, Emmanuel, Beitar Ilit, Modi'in Ilit, and Tel Zion. Settlers applying for the program will be examined according to "various criteria." The training is set to begin in two weeks. 
According to what an army representative told various individuals inquiring about the program, settlers with criminal records could join the service depending on the "nature" of their crime. Another settler was told that the army would "overlook" criminal records depending on whether or not the applying settler was serious about the job. 
Haaretz states that since the start of the Gaza-Israel war on 7 October, the Israeli army has distributed around 8,000 weapons to "settlement defense squads."
"We will turn the world upside down so that towns are protected. I have given instructions for massively arming the civilian security teams to provide solutions for towns and cities," National Security Minister Itamar Ben Gvir said on October 10.
The Hebrew daily also states that around 1,500 ultra-Orthodox settlers have submitted requests to join the army's reserve ranks. Israel's plan to militarize the settlements comes as West Bank settlers have stepped up violent attacks and threats against Palestinians. 
#Palestine 🇵🇸: Israeli settlers attacked the town of Deir Sharaf, just west of #Nablus (#WestBank), after an army reservist was killed by a suspected Palestinian this morning.

The settlers torched several shops and cars before returning to the illegal settlement Shavei Shomron. pic.twitter.com/GYpaWllfzH

— Thomas van Linge (@ThomasVLinge) November 2, 2023
A UN report released on Wednesday says that hundreds of Palestinians have been forcibly displaced from their homes in the occupied West Bank. Just days ago, 141 Palestinians from the southern West Bank town of Khirbat Zanuta fled their homes after armed settlers threatened to kill them if they refused to leave. 
Loading...