---
Syria Launches Missiles On Golan Heights As US Begins 'Surging' Defense Aid To Israel
Update(1612ET): The Syrian Army has fired missiles toward the Israeli-occupied Golan Heights Tuesday evening (local), breaking reports indicate. The Israeli Defense Force have confirmed the attack:
A number of launches from Syria aimed for Israel were identified a short while ago. Part of the launches crossed into Israeli territory and presumably fell in open areas.

— Israel Defense Forces (@IDF) October 10, 2023
This raises the risk of a broader conflict which spirals, given the earlier exchange of fire in northern Lebanon between Israel and likely Hezbollah positions. Al Jazeera senior correspondent Zeina Khodr writes on the significance of the Golan mortar fire from Syria: 
Rocket from Syria lands in Israel occupied Golan Heights- it was a matter of time before a message is sent to Israel from this front … "multi front assault possible".
This came within an hour of President Biden in a speech confirming that the US will begin 'surging' defense aid to Israel.
And the Pentagon too confirmed:
A senior defense official said the Pentagon was "surging support" to its closest Middle Eastern ally in response to what U.S. officials have said are the brutal new tactics that characterized the weekend assault by Hamas militants into southern Israel. With the combined death toll exceeding 1,500, Israel's government on Monday ordered a full-scale siege of the Gaza Strip, setting the stage for what could be a prolonged and bloody offensive in the small, densely populated Palestinian enclave.
This has already begun, says Boeing:
Boeing accelerated delivery of 1,000 smart bombs to Israel as the country steps up retaliation against Hamas https://t.co/SyylmXE0TI

— Bloomberg (@business) October 10, 2023
Meanwhile, various countries have begun evacuation efforts of their citizens from Tel Aviv:
LUFTHANSA TO CONDUCT EVACUATION FLIGHTS FROM ISRAEL: SPIEGEL
* * *
Update(1310ET): The Israeli army has reportedly issued an order for citizens to evacuate the Metula settlement, which lies just along the northern border with Lebanon. This after a salvo of some 15 rockets was fired from southern Lebanon in a suspected Hezbollah operation. "In response to the launches identified from Lebanese territory toward Israeli territory, IDF soldiers are currently responding with artillery fire," regional sources report. The IDF said it intercepted several of them, while most landed in open fields. Things are steadily escalating there:
A senior Israeli officer was killed in a confrontation with militants on the frontier with Lebanon on Monday, Israel's military has confirmed.
The [Israeli] military said troops and aircraft killed two "terrorist infiltrators" who had crossed into Israeli territory. Palestinian Islamic Jihad claimed that they were its members.

Later, at least three militants from Lebanon's Hezbollah movement were killed as the military attacked sites in Lebanon in response to mortar fire.
From #IDF 🇮🇱 retaliatory strikes on Hezbollah hideouts in southern #Lebanon 🇱🇧 pic.twitter.com/q1kRaCRyF7

— Aleph א (@no_itsmyturn) October 10, 2023
Still, both Israel and Iran-backed Hezbollah have thus far narrowly avoided a spiral into all-out war at the Israel-Lebanon border. "What's happening here seems to be a kind of contained tension. Lebanon is not yet a war zone. However, it's an area of operation. But it seems it's also a space for both sides to exchange messages," an Al Jazeera's correspondent, Ali Hashem, has observed.
Iran, meanwhile, has been on the defensive after major US media, especially the Wall Street Journal, cited US sources who alleged Tehran supported, funded and helped plan Hamas' deadly rampage across southern Israel on Saturday. There's speculation that the Iranians fear Israel's Netanyahu government could begin targeting sites inside Iran. A regional source reports Tuesday on the unprecedented softening of rhetoric from Iran's leadership, related to Hamas and Israel as follows: 
Iran's supreme leader has strongly rejected any involvement in the Hamas movement's surprise attack on Israel. The public maneuvering, which involved Ayatollah Ali Khamenei strikingly repeating his rejection of an Iranian role three times in a 90-second span, follows controversial claims in US media that Tehran helped plan the Oct. 7 blitz.

Speaking on condition of anonymity, a high-ranking Iranian source told Amwaj.media that Khamenei's remarks—his first since the Hamas offensive—may have been sparked by "him seeing the direction of the Israeli public diplomacy campaign." Rejecting concerns of an impending Israeli attack as Khamenei's underlying motive, the source said the supreme leader's comments are "pre-emptive" as opposed to reactive.

Addressing the rare decision by Khamenei to be so vocal in his rejection of an Iranian role in the Palestinian blitz, a second senior source in Tehran told Amwaj.media, "Give me one reason why he should do otherwise." Also speaking anonymously given the sensitivity of the matter, he continued, "Why should one give them the perfect justification they need for an attack?" At the same time, the source dismissed the notion that being so explicit in rejecting a role in the Hamas attack indicates a sense of weakness on the part of Iran.
BIG: In rare public maneuvering, #Iran's leader explicitly rejects any role in #Hamas attack 3x in 90-sec span. High-ranking Iranian source tells @amwajmedia this may have been sparked by Khamenei "seeing direction of Israeli public diplomacy campaign."https://t.co/7dM8H0P4Qy

— Mohammad Ali Shabani (@mashabani) October 10, 2023
The Pentagon has meanwhile warned both Iran and Hezbollah against jumping into the conflict in a fresh statement:
The senior US official said Iran, Hezbollah and other groups backed by Iran's Islamic Revolutionary Guard Corps (IRGC) "should think twice" before joining in the war.

"Iran-backed adversaries like Lebanese Hezbollah should not question the commitment of the US government to support the defense of Israel," the official added.

"We believe that the folks in the region understand what those capabilities are," the White House's National Security Council coordinator John Kirby, a former US Navy rear admiral, told reporters Monday evening.
This as the following just came across the news wires:
US MAY DEPLOY A SECOND AIRCRAFT CARRIER NEAR ISRAEL: WSJ
While there are yet no indicators that the US will conduct anything other than a "show of support" with the naval hardware dispatched near Israel, it will certainly be in a position to conduct some level of active intervention on Israel's side if ordered by the White House:
The IDF said it had mobilized 300,000 troops and declared a full siege halting the flow of water, food and electricity into Gaza on Monday.

The arrival of the USS Ford – which is carrying an air wing and is accompanied by the guided-missile cruiser USS Normandy and four US Navy Arleigh Burke-class guided-missile destroyers – is intended to send an unmistakable warning to Iran and the militant groups it backs throughout the region not to join in the conflict by launching their own attacks against Israel, Biden administration officials said.

The strike group led by the Ford is capable of intelligence collection and "long-range strikes," a senior US defense official told reporters on Monday, noting its arrival signals "the United States is postured to respond to any contingencies and minimize the risk of a wider conflict."
Israeli forces appear to be currently shelling the port of Gaza pic.twitter.com/u4XSv8vrQn

— OSINTtechnical (@Osinttechnical) October 10, 2023
Republicans in Congress continue to question Biden's unfreezing of the $6 billion for Iran. Some are calling for a refreeze in light of the Hamas attack. According to The Hill:
Blackburn and other Republican senators wrote a letter to Biden dated Oct. 9 calling on him to stop the flow of the $6 billion into Iran, even though the funds are only supposed to be used for humanitarian purposes.  

"Your administration claims these funds are only available for humanitarian use, but money is fungible, and there is significant risk they could be used to further efforts by Iran or Hamas against Israel," they wrote.  

"Moreover, allowing $6 billion to flow into Iran's economy, even if the purpose is for humanitarian aid, allows the Iranian regime to reallocate even more funds to supporting terrorism," they argued.
The White House response:
"You just laid out all the ways that Iran is complicit ... is that reason enough to re-freeze the $6 billion that the U.S. helped unlock for them?"

Jake Sullivan: "We have not yet had a dollar of that $6 billion spent and I will leave it at that" pic.twitter.com/Vtvs2tX1hU

— RNC Research (@RNCResearch) October 10, 2023
* * *
The Israel Defense Forces (IDF) have announced they have completely sealed the border with Gaza amid continued body recovery operations and assessment of damage. This as Israel has newly announced that over 1,000 Israelis have been killed.
The IDF and Israeli officials are also for the first time taking foreign journalists to the scenes where the armed raids out of Gaza took place on Sunday, including to Kfar Azza, a kibbutz near the border where some 70 Jewish residents were killed. The IDF has denounced the "massacre" while giving foreign press a tour of the empties out settlement.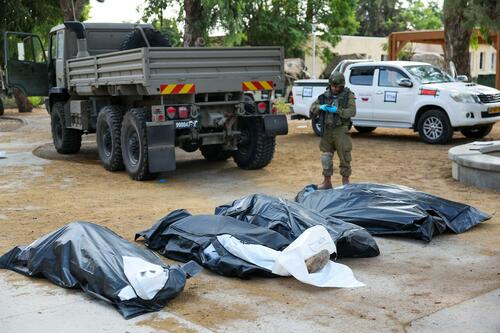 "It's not a war, it's not a battlefield, it's a massacre," IDF Major General Itai Veruv was quoted as saying. "You see the babies, their mothers and their fathers, in their bedrooms, and in their protected rooms, and how the terrorists killed them — it's not a war."
"It's something that I never saw in my life," he said. "We used to imagine our grandmothers and grandfathers during the pogroms in Europe. It's not something that we have seen in recent history."
Another one, Kibbutz Be'eri, was the gruesome scene of the recovery of at least 108 bodies, while the music festival in the desert where footage of the initial Hamas invasion was captured had at least 260 bodies.
Among the Hamas and Palestinian Islamic Jihad (PIJ), the IDF said it had killed some 1,500 in Israeli territory, and these bodies are being collected too.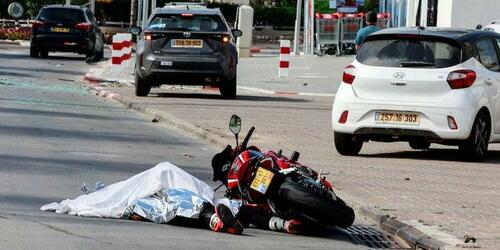 In Israel, at 1,008 people have died and over 2,600 others have been injured, but assessing total casualties and also identifying the deceased has been a long, difficult process - also under war conditions as missiles fly above. One top Netanyahu aide, Yossi Shelley, is under fire for some controversial statements to the press: 
Responding to questions during an interview on Channel 12 about the government's reaction time, Shelley said that "the party made a not insubstantial contribution to the chaos," adding "I'm not casting blame but sometimes there are cumulative conditions, this is a situation which no one planned."

Shelley said the process of identifying the fatalities and the hostages was like "standing in line at the supermarket, it doesn't matter how many shop assistants there are, sometimes it's impossible to deal with everyone."
On Tuesday he tried to clarify the statements amid anger from victims' families. Shelley said, "I never in any way intended to say that the partygoers contributed to the results of the tragic event. The youngsters who were celebrating, including my beloved cousin Lori who was murdered, celebrate like the people of Israel should do on their festivals."
Warning - graphic content below:
First images from the #Hamas massacre in Kibbutz Alumim. Total number of murdered Israelis tops 900 and counting 😢 pic.twitter.com/VFJ32LdcVj

— Elad Ratson 𝕏 (@EladRadson) October 9, 2023
Video from the aftermath of an ambush by Hamas terrorists on an Israeli family's vehicle in the area of Kibbutz Reim. Blood everywhere.

A baby seat full of blood, the Evil murderers did not spare the baby.

It is impossible to describe in words the dimensions of the massacre. pic.twitter.com/Wi7fpRO1ta

— InDigit (@InDigit1) October 10, 2023
In Gaza, the death toll continues to mount amid constant Israeli airstrikes and shelling, with Al Jazeera reporting that the dead have reached 770.
While a horrific massacre by Islamic terrorists infiltrating southern Israel played out over the weekend, a massacre of mostly civilians by the overwhelming airpower of Israel's air force is ongoing in the Gaza Strip. Nearly 200,000 Gazans have been displaced at this point...
Scenes of apocalyptic destruction in #Gaza.

Literally not a single building has remained untouched. pic.twitter.com/sBsQAQk6X5

— Thomas van Linge (@ThomasVLinge) October 10, 2023
On social media, there are graphic scenes of death, violence, and suffering widely circulating.
Politico has decided to go after Elon Musk and X for lack of censorship related to some of these videos:
Videos and images of mass shootings, kidnapped civilians and soldiers and other violence linked with Hamas' attack on Israel are being widely shared on X, formerly known as Twitter, in violation of the company's own rules against inciting violence.

POLITICO's review of Elon Musk's social media platform in the wake of Hamas' attacks, which began on October 7, discovered scores of videos that allegedly showed militants murdering civilians and Israeli soldiers; viral hashtags associated with the ongoing violence that praised Hamas' activities; and social media posts that included graphic pictures of those killed and antisemitic hate speech.
However, platforms like X are in part helping people to track missing persons, or to identify the deceased, as well as in some cases their killers.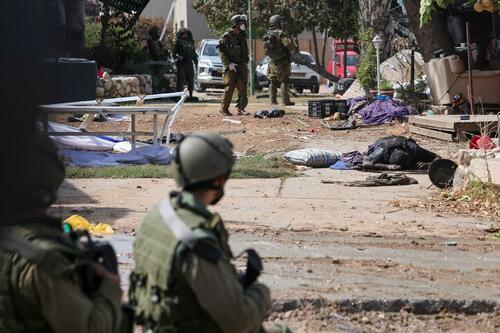 Meanwhile, even though the situation in southern Israel is largely pacified under the IDF, Israel's military still believes some terrorist infiltrators are present, but are hiding. A search operation by Israeli forces is still active after the majority of civilian residents from communities near Gaza have been evacuated: 
Hamas fighters are believed to be "still hiding" in some communities in southern Israel even after the Israeli military took back control, according to Israel Defense Forces spokesman Maj. Doron Spielman.

"We are in control of the communities, but we actually assume that there are Hamas terrorists that are still hiding in these areas, including in the road where we are now," Spielman told ABC News during an interview Monday in Sderot, Israel. "In all these communities, we've seen terrorist come out of hiding. Just yesterday, they took over an ambulance."

"We're still being very, very careful," he added. "This is a war zone with active terrorists that are operating here."
Videos have emerged showing highway shootouts between Israeli forces and Hamas which happened Saturday into Sunday:
Footage has been released showing Israeli police engaging Hamas terrorists. pic.twitter.com/mv5fv803i0

— Global: Military-Info (@Global_Mil_Info) October 9, 2023
There are also many videos documenting kidnappings which unfolded in real-time:
The moment Hamas terrorists capture Ilan Avraham, an Israeli who escaped the massacre of the Supernova festival and sought shelter in a kibbutz. The terrorists got him at the gate and abducted him into Gaza.#HamasisISIS
pic.twitter.com/zqjdBoeirl

— SpringTime (@AvivitD) October 10, 2023
Hamas commandos, clearly well-armed and well prepared, filmed themselves breaching Israeli settlements and setting fire to the dwellings...
🇵🇸🔥🇮🇱
+18

❗️Materiał wideo z kibucu Beeri, w którym bojownicy Hamasu zabili ponad 100 Izraelczyków. Na nagraniu widać , jak bojownicy strzelają do psa i podpalają dom. pic.twitter.com/O5bwqkskkZ

— WarNewsPL (@WarNewsPL1) October 9, 2023
Graphic: The below shows the killing of a man who tried to flee (just off-scene)...
WARNING: GRAPHIC
Dashcam footage shows Hamas terrorists executing people in a bomb shelter and shooting people who tried to run away. At the end, they threw a grenade to finish off those who were hiding. pic.twitter.com/kGQDj0DdhJ

— Israel War Room (@IsraelWarRoom) October 10, 2023
IDF reinforcements have continued to muster at the border. While the ground invasion has yet to start, it is expected and likely imminent, given Israeli Prime Minister Netanyahu told President Biden on Sunday that "We have to go in," in reference to a ground operation. He further conceded this will be a "long and difficult war."
* * *
More on the ground coverage from local Israeli media sources...
i24NEWS Correspondent @Nicole_Zedek reports from Kibbutz Kfar Aza, a quarter-mile from the Gaza border, and recounts the atrocities that were committed in the small community which remains an active scene as soldiers clear booby traps and recover the bodies of dozens of victims pic.twitter.com/J4ZfWZQYHp

— i24NEWS English (@i24NEWS_EN) October 10, 2023
Loading...