---
Kim Jong Un Toasts Putin, Wishing 'Great Victory' Over Enemies
The meeting between Kim Jong Un and President Vladimir Putin on Wednesday in the far eastern city of Vladivostok was all that it was expected to be, with the North Korean strongman praising a "heroic" Russian army which will be led by Putin to a "great victory" over its enemies.
"We are confident that the Russian army and people will win a great victory in the just fight to punish evil groups who pursue hegemony, expansion, and ambition," Kim told Putin while raising a toast during an official dinner.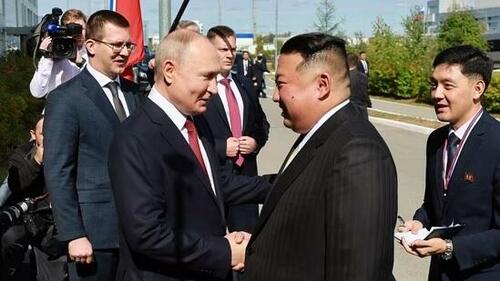 There's much speculation that the one-on-one talks held prior to the dinner, which lasted about two hours, may have focused on Moscow buying North Korean ammunition for use in Ukraine. 
"I will always be standing with Russia," Kim emphasized in footage broadcast on Russian TV, while Putin agreed that "An old friend is better than two new ones."
Putin also hailed "the future strengthening of cooperation and friendship between our countries," during a tour with Kim at Russia's Far East spaceport, the Vostochny Cosmodrome. "The leader of the DPRK shows great interest in rocket technology, and they are trying to develop (their presence in) space," Putin said
Just as the two leaders, seen by the West as 'pariahs', were about to meet, Pyongyang fired off two ballistic missiles into the sea in yet another warning to South Korea and its main military backer the United States.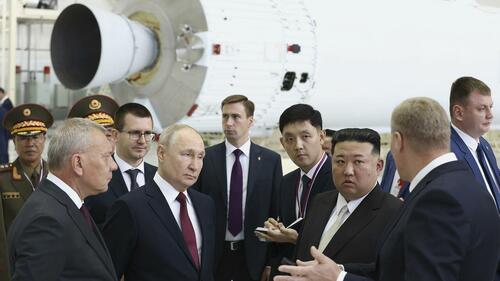 When asked by reporters about defense cooperation and weapons procurement, Putin merely said he sees "possibilities" for deepened military ties.
"Well, there are certain restrictions, and Russia complies with all these restrictions," Putin said to Russia 1 television station. "But there are things that we can of course talk about, discuss, think about it. And here too there are prospects."
President Putin and North Korean leader Kim Jong Un toured the Vostochny cosmodrome, inspecting a number of its facilities, including the launch complex of the Soyuz-2 launch vehicle

Follow us on Rumble: https://t.co/Nuc9nUzTc5 pic.twitter.com/qN8zkxAyrM

— RT (@RT_com) September 13, 2023
No doubt high on Putin's mind and hanging in the balance is Moscow's important relationship with Seoul. Any weapons deal with the north would be a huge and likely irreparable blow to Russia-South Korea ties.
AFP cited Vladimir Tikhonov, professor of Korean studies at the University of Oslo, to say that Kim and Putin "may conduct an exchange of North Korea's old-age, Soviet-type ammo for Russia's newer military tech or hard currency (or wheat)."
NEW: Putin suggests #Russia will help #NorthKorea build satellites.

President Putin and Kim Jong-Un visited the Vostochny Cosmodrome. When asked by reporters if Russia would help Kim build satellites, Putin replied: "That's why we came here. The leader of the DPRK shows great… pic.twitter.com/uymywKaZMj

— Michael A. Horowitz (@michaelh992) September 13, 2023
Russian forces blow through a lot of artillery shells on a daily basis along front lines in the war against Ukraine, but that's precisely what the North Koreans have in ample supply - and it can be shipped by train along the small border shared by both.
* * *
The moment of Kim's toast, wishing "great victory" over Russia's enemies...
🇷🇺🇰🇵 Kim Jong Un r proposed a toast to Putin's health, all comrades present, and to Russia's new victories! pic.twitter.com/cuzWbfFHyv

— Rev Laskaris (@REVMAXXING) September 13, 2023
Loading...