---
"Gang Bosses" Led By US Risk Unleashing "Nuclear War": Kim Jong Un
North Korea's Supreme Leader Kim Jong Un has blasted the US, Japan and South Korea for continuing to hold joint war games in waters off the Korean Peninsula. He has warned during official celebrations marking the formation of the DPRK's navy that US actions in the region have become more "frantic" and thus could unleash nuclear war.
"The US imperialists are getting more frantic than ever before in the joint naval military exercises with their vassal forces in the waters around [North Korea]," he said during a Tuesday address before naval officers. And on Wednesday it's being newly reported that—
N.KOREA LAUNCHES BALLISTIC MISSILE INTO EAST SEA: S.KOREA JCS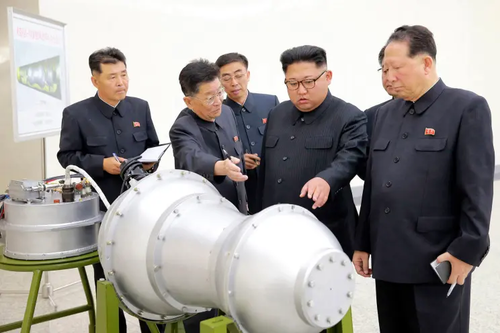 He added that this is while the US is "putting the deployment of reinforced nuclear strategic assets in the waters around the Korean Peninsula on a permanent basis."
The reference is to the fact that the US Navy this summer docked its nuclear-armed submarine USS Kentucky in South Korea. The Ohio-class ballistic missile submarine made port call at the coastal city of Busan in July, a first which hasn't happened in decades.
As we reported earlier this week, Kim has said he is authorizing the navy "expanded use of tactical nuclear weapons". He spelled out that, "From now on, KPA's Navy will become a part of the national nuclear deterrence force, tasked with strategic missions," according to KCNA.
Kim's heightened nuclear rhetoric is directly related to the new trilateral agreement between Tokyo, Seoul and Washington, inked this month at Camp David - which also assures further military drills.
In fresh statements, the North Korean leader referred to the trio as "gang bosses"...
The gang bosses of the US, Japan and the 'Republic of Korea' were closeted with each other, where they announced that they would conduct on a regular basis the tripartite joint military exercises under different codenames, and set about its implementation.
He then stated this increases the chances of nuclear war breaking out...
"Owing to the reckless confrontational moves of the US and other hostile forces, the waters off the Korean Peninsula have been reduced into the world's biggest war hardware concentration spot, the most unstable waters with the danger of a nuclear war," he asserted.
The White House has meanwhile stated that it remains open to dialogue with Pyongyang, and wants a nuclear-free peninsula, yet all the while it has sent a nuclear-armed sub there - which doesn't bode well for any near future peace talks, which haven't happened since the Trump administration.
Loading...