---
Large Israeli Missile Strike On Damascus Kills 4, Follows Lull In Attacks
After weeks of relative quiet, the Syrian capital of Damascus was rocked by Israeli missile strikes in the early Monday morning hours, resulting in the deaths of four Syrian soldiers and several more wounded, according to state agency SANA.
The attack also caused unspecified "material damage" - while multiple inbound projectiles were reportedly intercepted by Syrian air defense. Videos which emerged in the aftermath appeared to show intercept explosions above the city in the overnight hours.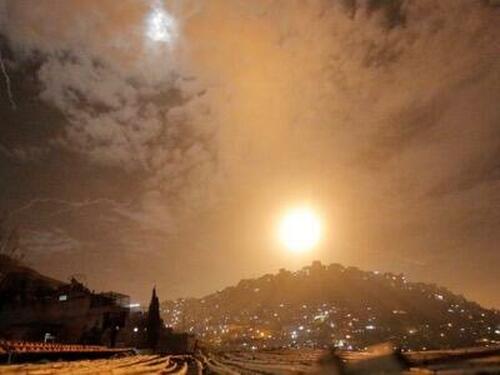 "At around 02:20 am on Monday, the Israeli enemy carried out an aerial act of aggression from the direction of occupied Syrian Golan, targeting some sites in Damascus," SANA described.
"Our air defenses intercepted the missiles and shot down some of them, and the aggression resulted in the martyrdom of four army personnel and the injury of four others, in addition to causing some material damages," the local report added.
The Associated Press cited an anti-government group based in the UK to claim that the fresh attack "targeted weapons and munitions warehouses and positions of Iran-backed militias around Damascus." And yet, the Syrian government is saying only its soldiers were among the dead, not Iranians. 
Syria says four soldiers killed in alleged Israeli airstrike on Damascus
Another four wounded and property damage reported in first apparent strike since July 19 #Syria #israel #Damasco pic.twitter.com/vDSdlF1qwu

— Agencia AJN (@AgenciaAJN) August 7, 2023
Over the past couple of years these kinds of Israeli attacks have been semi-regular, often coming weekly, but lately have been less so.
For example, the last significant missile attack on Damascus was on July 19, and it killed three pro-government fighters and injured multiple others. There has been an estimated 20 Israel attacks on Syria so far this year alone.
Another reported [yet unconfirmed] video from #IAF 🇮🇱 airstrikes on Damascus last night. #Syria 🇸🇾 pic.twitter.com/pBMWOTX2HX

— Aleph א (@no_itsmyturn) August 7, 2023
The New York Times has detailed of the July attacks:
Last month, Israeli forces attacked seven targets in Damascus, according to Israeli reports. They were said to include warehouses used by Hezbollah, the Lebanese armed group, which, along with Iran, has supported the government of President Bashar al-Assad in the Syrian civil war.
Currently there are also rising tensions between the US and Russia in Syrian skies, given the recent dangerous aerial intercepts which have taken place, involving Russian fighter jets and American drones.
Militias described as 'pro-Iranian' groups have also been increasingly active in pressuring US occupation forces in the oil and gas rich northeast. US forces have been cutting Damascus (and the Syrian population) off from its own resources.
The absence of counter-ISIS operations by the US and partner forces at Tanf is not a surprise.

As both Bolton and Pompeo boasted in their memoirs, US forces remained at Tanf to counter Iran, not ISIS. 5/n pic.twitter.com/bU8ZqWDmNH

— Brian Finucane (@BCFinucane) August 3, 2023
There are also early signs suggesting Syrian and Russian forces could be planning for a future major operation to liberate Idlib province in Syria's northwest, which since 2015 has been in the hands of West-backed jihadists, including Al Qaeda groups. 
Washington has long maintained it is engaged in 'counter-ISIS' operations in Syria, but it was always really about weakening and cutting off the Tehran-Damascus-Hezbollah axis.
Loading...