---
Major Overnight Sea Drone Attack On Crimean Bridge Foiled: Kremlin
The Kremlin has announced another attempted Ukrainian attack on the Crimean Bridge, which happened in the overnight and early hours of Saturday. The overnight incident is being described as "multiple attempted attacks" - but which were reportedly thwarted.
A defense ministry statement described, "On September 1, at about 11:15pm Moscow time, the Kiev regime attempted to launch a terrorist attack on the Crimean Bridge using a semi-submersible unmanned boat." It added that the attacking vessels were "promptly detected and destroyed" in the Black Sea.
Russian media indicated that the attack was significant enough to stop traffic for for a period of time, but within hours vehicles were allowed to pass again.
According to more from TASS:
The Russian Defense Ministry said on Friday that the Black Sea Fleet had established permanent control of the situation in the Black Sea using all types of reconnaissance. The ministry said that this had allowed the naval air force on August 29-30 to foil an attempt by a Ukrainian special operations unit to land on the Crimean coast and carry out terrorist attacks.
Last month witnessed some of the most frequent attacks against the Crimean peninsula out of Ukraine since the war's start. This has included mostly drone attacks, but also the above-mentioned special operations amphibious landing, which as we described previously seemed more of a PR stunt for propaganda purposes.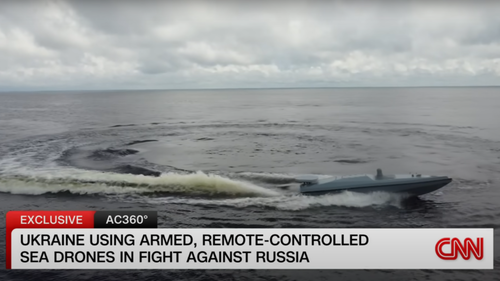 The vital Crimean bridge (or Kerch Strait Bridge) has been forcibly shut down on multiple occasions, and has suffered significant damage during two prior major attacks and direct hits.
At this point amid the last several months of Kiev's stepped-up campaign to attack Russian territory, there have been multiple dozens (if not possibly hundreds) of strikes on Russia and the Crimean peninsula - including as deep into Russia as Moscow and parts of the northwest - as one newly published map presents...
A map of Ukrainian drone attacks against the Russians. pic.twitter.com/KRy6UVkqTp

— Ragıp Soylu (@ragipsoylu) September 2, 2023
Statements out of Ukraine officials have indicated this is an attempt to create instability and fear among common Russians themselves.
These cross-border attacks have become almost daily, particularly drone assaults, but really nothing has changed on the battlefield in terms of the failing counteroffensive. 
Loading...