---
Major Ukraine Drone Attack Targets 4 Regions Of Russia
Russia's defense ministry (MoD) has described a fresh Sunday major drone attack from Ukraine on four separate regions, as Kiev has continued to step up attacks on Russian territory even as its counteroffensive is a widely acknowledged failure. 
The MoD identified that attacks targeted Russia's Kursk, Rostov and Belgorod regions, all of which border Ukraine, and which caused commercial flights be temporarily halted at the Vnukovo and Domodedovo airports.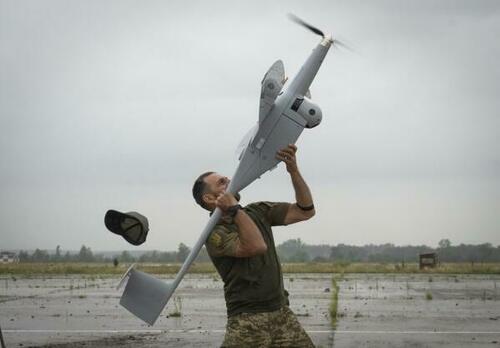 An enemy drone was also reported inbound in the Moscow region, but which reportedly was brought down by electronic countermeasures. The military said it was able to successfully intercept some of the cross-border drones.
"At about 2:00 p.m. Moscow time on August 20, the Kiev regime's attempted attack on facilities on Russia's territory with two plane-types unmanned aerial vehicles was thwarted. Russian air defense systems destroyed the unmanned aerial vehicles over the Belgorod Region," the military said, and emphasized no casualties in the attack on the capital.
The defense ministry also described the Belgorod region happened at about 2:40 pm Moscow time. "Russian air defense system shot down the plane-type unmanned aerial vehicle over the Belgorod Region," the MoD said.
According to further statements cited in Reuters, at least a dozen drones have targeted Belgorod region on Sunday:
The Kursk region's governor said five people had been injured and a fire had broken out when a drone hit Kursk city's railway station. Rostov's governor said no injuries or damage had occurred.

Later on Sunday, Russia's Defense Ministry said it had prevented two separate drone strikes on Belgorod region, the border province most regularly attacked by Ukraine. The local governor said on Telegram that 12 airborne targets had been downed on the approaches to Belgorod city.
The Kursk train station attack reportedly saw most people injured through falling glass and debris, with the Russian foreign ministry saying it "strongly condemns" the attack. Kursk lies some 150 km (or 93 miles) from the Ukrainian border.
Russia's Defense Ministry says another drone "launched by the Kyiv regime" was shot down over the Belgorod region. pic.twitter.com/erLzyu0LTz

— Belsat in English (@Belsat_Eng) August 20, 2023
Ukraine has not taken responsibility for the attacks, and rarely does, but Kiev officials still often express approval for such strikes, which have grown riskier and riskier, given the Kremlin in turn retaliates with airstrikes on 'decision-making centers'.
Unverified photos show a parked Russian long-range bomber burning in the aftermath of a Saturday drone attack on an airfield in Novgorod...
⚡️Russian Tu-22M3 bomber burning at the Soltsy airfield in the Novgorod region, which was attacked by a Ukrainian drone yesterday. pic.twitter.com/piHVdHLTdV

— War Monitor (@WarMonitors) August 20, 2023
On Saturday an Russia airfield was hit by a drone, and significantly it lies deep inside Russia, in the northwestern Novgorod region, between Moscow and St. Petersburg.
Loading...