---
Moscow Airport Temporarily Halts Flights After Failed Drone Attack
Moscow's Vnukovo airport was forced to temporarily halt all flights due to a failed drone attack in the late morning hours, Russian officials said Sunday, in a rarity at a moment the Ukrainians step up efforts to strike inside the capital.
The airport is located about nine miles southwest of Moscow, and the defense ministry said the drone was inbound but was destroyed by electronic anti-air measures in the Podolsk region of the Moscow suburbs.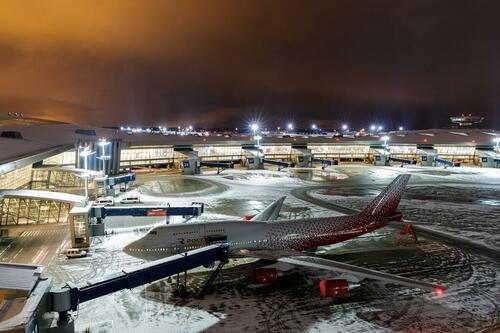 After a major Ukrainian drone attack on buildings in the Kremlin complex early this year, the military took steps to bolster anti-air measures and defenses in and around Moscow, including erecting Pantsir systems on tall buildings.
Moscow Mayor Sergey Sobyanin wrote on Telegram: "Today at around 11:00 a.m. a drone attempted to break through to Moscow. It was destroyed on the approach by air defenses. Well done military."
It is significant that Ukraine's long-range drone attacks have begun to halt or hinder air traffic over Moscow, even if briefly, and it comes after Ukraine's President Zelensky vowed "return the war" to Russian soil. The past week saw at least two attacks on Moscow City business district. 
The Associated Press notes of Sunday's drone operation, "The attack was one of four strikes on the Russian capital in the space of a month, spotlighting Moscow's vulnerability as Russia's war in Ukraine drags into its second year."
Russia had on Saturday vowed that a response is coming to these increased cross-border incidents, particularly after the late Friday sea drone attack on a Russian civilian tanker near the Kerch Strait, which Moscow condemned as a "terrorist attack". 
"The Kyiv regime, meeting no condemnation from Western countries and international organisations, is actively applying new terrorist methods, this time in the waters of the Black Sea," Russian Foreign Ministry spokeswoman Maria Zakharova said, while vowing retaliation:
"There can be no justification for such barbaric actions, they will not go unanswered and their authors and perpetrators will inevitably be punished," she added.
This weekend has seen heavy fighting in Ukraine and extensive Russian strikes across the country, resulting in multiple casualties, including among civilians.
Meanwhile, Ukraine continues major strikes on Crimean transport infrastructure and bridges...
⚡️TASS releases images of the consequences of the strike on Chongar bridge which connects Crimea to mainland Ukraine. pic.twitter.com/WIAjdRxS4C

— War Monitor (@WarMonitors) August 6, 2023
Reportedly the moment Chongar Bridge was hit. pic.twitter.com/osp1U4k18S

— Maria Avdeeva (@maria_avdv) August 6, 2023
On Sunday, Ukraine's air force said Russian forces launched 70 drones and missiles total, launched by both air and sea.
The Russians have also continued to deploy Iranian-made Shahed drones, and have even ramped up production in cooperation with Tehran at a joint facility on Russian soil.
Loading...