---
Netanyahu Forbids Israeli Defense Chief From Meeting Biden Officials During US Trip
Israel Defense Minister Yoav Gallant has been forbidden from meeting with US government officials during his current trip to Washington by Prime Minister Benjamin Netanyahu, according to Israeli media reports.
Gallant set off for the US capital overnight on Thursday where, according to his official agenda, he will meet with UN Secretary-General Antonio Guterres and Israel's Ambassador to the UN, Gilad Erdan.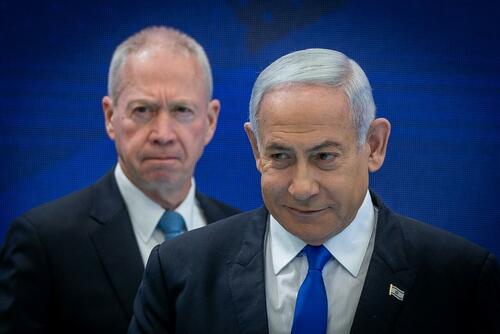 "Minister Gallant will hold a security briefing for the ambassadors of the member states of the UN Security Council and will visit the procurement delegation of the Ministry of Defense in New York," Galant's office said in a statement. 
However, no meetings with US officials are part of Gallant's agenda, as Netanyahu reportedly imposed a veto with the directive, "if I'm not invited to Washington, no one gets a meeting there."
Since his return to power late last year, Netanyahu has been left out in the cold by US President Joe Biden, who has refused to invite the Israeli premier to the White House in a public show of discontent with the policies pursued by Jewish supremacist authorities from Israel's governing coalition.
Israel's Channel 12 news reported in March that Netanyahu vetoed two US visits to which Gallant was invited as he awaited his own invite.
Nonetheless, Gallant has previously met with senior US officials, including Defense Secretary Lloyd Austin, on the sidelines of a NATO gathering in Brussels in June and earlier in the year in Israel. He also met with the head of the Joint Chiefs of Staff, General Mark Milley, in Israel this week.
No information was made available about their discussion; however, last week, western media reports revealed that Milley was traveling to Israel to "assess the army's fitness and readiness" in the wake of widespread mutiny by volunteer reservists who oppose Tel Aviv's planned judicial overhaul.
Meanwhile on the extreme opposite side of Biden's Israel snub...
Nikki Haley is America Last:

"It's not that Israel needs America, America needs Israel!" pic.twitter.com/91TnNsEsg5

— Citizen Free Press (@CitizenFreePres) August 24, 2023
Gallant and Netanyahu publicly butted heads over the judicial overhaul in March, as Gallant publicly called on the premier to scrap the contentious legislation. One day later, Netanyahu announced his decision to dismiss the defense minister.
However, Netanyahu had to walk back his decision two weeks later. "I decided to put the differences we had behind us," he said during a televised speech on 10 April. "Gallant remains in his position and we will continue to work together for the security of the citizens of Israel."
Loading...