---
US Attacks Eastern Syria In 2nd Round Of Major Strikes On 'Iran-Linked' Militants
Update(1930ET): The US has just confirmed it conducted a second round of major airstrikes in Syria since the Gaza war began, which the Pentagon has described as retaliation for a recent series of attacks by "Iran-linked" militias against US troops in the country's east:
U.S. fighter jets conducted "a self-defense strike" at a weapons storage facility in Syria that was being used by Iran's Islamic Revolutionary Guard Corps, Defense Secretary Lloyd Austin said Wednesday.

The strike in eastern Syria was carried out at President Joe Biden's direction, Austin said in a statement.

"This precision self-defense strike is a response to a series of attacks against U.S. personnel in Iraq and Syria by IRGC-Quds Force affiliates," Austin said.
At this point the Pentagon has cited that 46 US service members have been injured over the past month of attacks inside Iraq and Syria, most with 'traumatic brain injuries'.  
* * *
Update(11:45ET): Yemen's Houthis have claimed they've successfully shot down a US MQ-9 reaper drone over "territorial waters" off the Yemeni coast. According to a machine translation of a Houthi army statement: 
Our air defenses were able to shoot down an American MQ9 aircraft while it was carrying out hostile, monitoring and spying activities in the airspace of Yemeni territorial waters and within the framework of American military support for the Israeli entity.
If confirmed as accurate, this could draw the United States deeper into what could develop into a broader regional conflict. The Pentagon has had aerial assets flying over Gaza, and the Mediterranean and Red Seas. Further US warships have been seeking to intercept ratcheting drone and missile attacks from the Houthis, with one such intercept having already occurred in the opening weeks of the Gaza war, now having reached one month.
There's as yet been no Pentagon or US official confirmation of the alleged MQ-9 drone shootdown. 
Yemen's Ansar Allah aka Houthis claim to have downed a US MQ-9 Reaper operating above Yemeni territory in support of Israel amid the current war in Gaza. The Houthis have fired missiles and drones against Israel in recent weeks. https://t.co/GcgbB18331

— 𝕋om 𝕆'ℂonnor (@ShaolinTom) November 8, 2023
However, footage purporting to show the drone shootdown has been released...
⚡️Yemeni armed forces: "Yemeni air defenses shoot down an American MQ9 plane while it was carrying out hostile missions as part of military support for the Israeli enemy entity" pic.twitter.com/WpGJczbCRj

— War Monitor (@WarMonitors) November 8, 2023
* * *
President Biden in a phone call this week urged Israeli Prime Minister Benjamin Netanyahu to implement a three-day pause in fighting. This was revealed by multiple sources to Axios Tuesday, and Biden's request appears to have been rejected, given the call took place Monday and Israel has since reaffirmed there will be no truce until the hostages held by Hamas are released.
"According to a proposal that is being discussed between the U.S., Israel and Qatar, Hamas would release 10-15 hostages and use the three-day pause to verify the identities of all the hostages and deliver a list of names of the people it is holding, the U.S. official said," according to the report.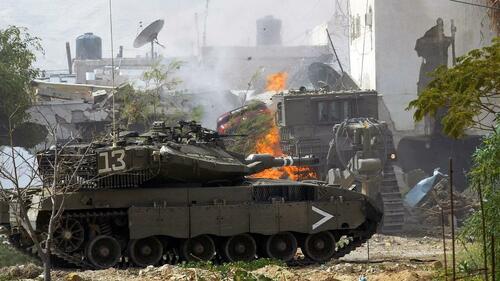 But Netanyahu on Tuesday gave a speech declaring that his forces were "reaching deeper than Hamas ever imagined" a hailed the killing of thousands of Hamas terrorists and commanders. "There will not be a ceasefire without the return of our kidnapped," he emphasized in a message "to our enemies and our friends alike."
Israel's Defense Minister Yoav Gallant had at the same time declared that the IDF is fighting "in the heart" of Gaza City and is "tightening the noose" around Hamas.
Concerning the Monday phone call, Axios revealed further, "The two U.S. and Israeli officials said Netanyahu told Biden he doesn't trust Hamas' intentions and doesn't believe they are ready to agree to a deal regarding the hostages."
The Israeli leader "also said that Israel could lose the current international support it has for the operation if the fighting stops for three days, the officials said." Netanyahu further voiced to Biden that in 2014 Hamas took advantage of a humanitarian pause to kidnap an Israeli soldier and kidnap others.
The official White House call readout from the Biden-Netanyahu meeting only said the two leaders "discussed ongoing efforts to secure the release of hostages held by Hamas" - but without offering further details.
Of the estimated total 240 captives, Hamas has so far released four hostages, reportedly in large part through Qatar's mediation, but lately US officials have said progress has stalled since then.
Footage released today by the IDF showing Israeli Ground Troops alongside Armored Vehicles and Tanks having Captured a Block of Al-Rasheed Street along the Coast of Gaza City, meaning that IDF Ground Units have Penetrated much Deeper into the West of the City and the Northern… pic.twitter.com/nztCbFYDWi

— OSINTdefender (@sentdefender) November 7, 2023
Israel says it was able to free a female soldier during the initial phase of ground operations, while reports have said that in some cases deceased hostages have been found, possibly due to airstrikes.
Hamas has meanwhile continued to publish short videos of what the group says are successful ambush attacks on tanks and armored convoy units, also showing close urban combat, but typically with IDF ground troops nowhere to be seen. The IDF appears to be advancing into Gaza City purely with armor, and presumably with ground infantry troops staying in the rear until a city area is initially prepared through tank, artillery, and airstrikes.
On Wednesday Secretary of State Antony Blinken said the US stands by Israel in rejecting calls for a full ceasefire. "Israel has repeatedly told us that there is no going back to October (7) before the barbaric attacks by Hamas -- we fully agree," he said. He then said of G7 counterparts, "We all agreed humanitarian pauses would advance key objectives."
Loading...