---
Netanyahu's Hardline Allies Threaten To Implode Israeli Govt Over Concessions To Palestinians
Prime Minister Benjamin Netanyahu's coalition partners insist they would not support Israeli concessions to the Palestinians as part of a deal to normalize relations with Saudi Arabia and would quit the coalition if such concessions were made.
"If there will be concessions for the Palestinians, we will not remain in the government — and not just us, but the Religious Zionism party as well," National Security Minister Itamar Ben Gvir, head of the far-right Oztma Yehedit party, said in a statement on Saturday.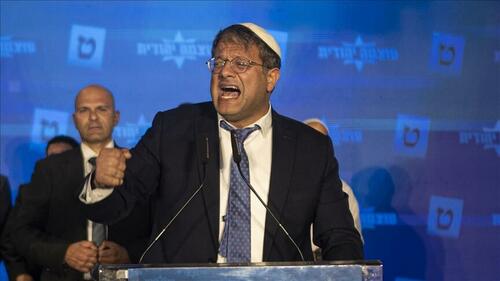 Finance Minister Bezalel Smotrich, leader of Religious Zionism, indicated last month that he also would not agree to any concessions for the Palestinians.
Otzma Yehudit and Religious Zionism joined Prime Minister Netanyahu's Likud party to form a government last December following elections. Otzma Yehudit and Religious Zionism hold 14 Knesset seats together, which Netanyahu needs to maintain the coalition's majority and avoid snap elections.
Ben Gvir's statement contradicted comments made by Netanyahu to CNN also on Saturday, suggesting Ben Gvir and Smotrich would join him in any deal Netanyahu agrees to with the Saudis.
In the interview, CNN correspondent Kaitlan Collins asked Netanyahu, "You hear what your finance minister has said in recent days, he's previously said that the Palestinians don't even exist as a people. I think people have a hard time believing that you can have something where you're giving a significant exchange to the Palestinians, and you've also got this coalition on board even if you say you're the one that makes the decisions here. You think they'll go along with it."
"They talk and talk, that's what politicians do," Netanyahu answered. "I don't think people understand how our system works. My coalition partners join me, I didn't join them," Netanyahu added.
Saudi Arabia has previously stated Israel must allow the establishment of a Palestinian state per the guidelines of the 2002 Arab Peace Initiative in exchange for normalization. The Saudis also demand a defense pact with the US, access to US nuclear technology, and permission to purchase more advanced US weapons as part of a normalization deal.
In contrast, Ben Gvir and Smotrich seek to annex the occupied West Bank and have accelerated the building of illegal Jewish settlements on Palestinian land since coming to power in Netanyahu's coalition.
"Otzma Yehudit supports normalization — on this Netanyahu has our full support. But we will not accept any concessions to the Palestinians. I told the prime minister not to put us in a corner," Ben Gvir said.
Addressing the Palestinian issue in his speech to the UN General Assembly this week, Netanyahu said, "The Palestinians could greatly benefit from a broader peace. They should be part of the process, but they should not have a veto over the process."
"And I also believe that making peace with more Arab states would actually increase the prospects of making peace between Israel and the Palestinians," he added.
In an interview with Fox News on Wednesday, Saudi Crown Prince Mohammed bin Salman said that "every day we get closer" to Saudi Arabia normalizing ties with Israel while clarifying that the Palestinian issue is still a "very important" component of the process.
Loading...