---
N.Korea Launches More Cruise Missiles In 'Warning' Over US Nuclear-Armed Sub
This week has witnessed what is arguably the most intense rhetoric exchanged between Washington and Pyongyang in years, given it centers on back-and-forth nuclear threats, yet major Western media networks have given it scant attention in terms of feature coverage.
In the latest incident, North Korea on Saturday fired multiple cruise missiles to the west of the Korean Peninsula, according to South Korean military statements, which appear part of the Kim Jong Un government's continuing protest over a US nuclear-armed submarine docking at a South Korean port.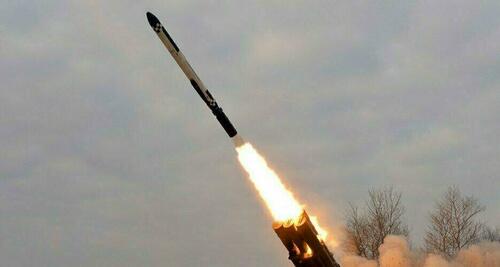 It marks at least the second missile launch and "warning" from Pyongyang this week. "North Korea fired several cruise missiles into the Yellow Sea on Saturday," the Joint Chiefs of Staff [SK JCS] said.
"South Korean and US intelligence authorities were analyzing the launches, which took place at about 4:00 a.m., to learn more about the type of missiles fired and other details, according to the JCS." The JCS statement added: "Our military has bolstered surveillance and vigilance while closely cooperating with the United States and maintaining a firm readiness posture."
As we highlighted this week, the Ohio-Class USS Kentucky docked in the South Korean port of Busan on Tuesday, marking the first time since 1981 that an American nuclear-armed submarine arrived in the country. It also marked the first time since the US withdrew its tactical nukes from South Korea in 1991 that US nuclear weapons were deployed to the Korean Peninsula.
Immediately on the heels of the nuclear-armed sub's arrival, Pyongyang unleashed accusations of nuclear escalation aimed at Seoul and Washington....
North Korean Defense Minister Kang Sun-nam slammed the US and South Korean cooperation on nuclear weapons in a press statement released by North Korea's Korean Central News Agency.
Kang said US and South Korean officials held the NCG meeting "to discuss the plan for using nuclear weapons against the DPRK [Democratic People's Republic of Korea]."
Nothing says denuclearization like sending nukes

— Dave DeCamp (@DecampDave) July 22, 2023
Discussing North Korea's nuclear policy, Kang said, "I remind the US military of the fact that the ever-increasing visibility of the deployment of the strategic nuclear submarine and other strategic assets may fall under the conditions of the use of nuclear weapons specified in the DPRK law on the nuclear force policy."
He said that Pyongyang's nuclear doctrine "allows the execution of necessary action procedures in case a nuclear attack is launched against it or it is judged that the use of nuclear weapons against it is imminent."
After US officials held the NCG meeting, they released a statement that said any nuclear attack from the North will "will result in the end of that regime."
Loading...