---
Nuland In Niger, Warns Coup Leaders Against Forging Ties With Russia's Wagner
Acting Deputy Secretary of State Victoria Nuland made a surprise visit to Niger's capital Niamey on Monday, where she had "difficult" talks with Niger's junta leadership after it ousted President Mohamed Bazoum late last month.
"Traveled to Niamey to express grave concern at the undemocratic attempts to seize power and urged a return to constitutional order," Nuland announced of the risky visit, given the country has just undergone a coup. It should be noted that US officials have yet to use the term "coup" to describe the situation.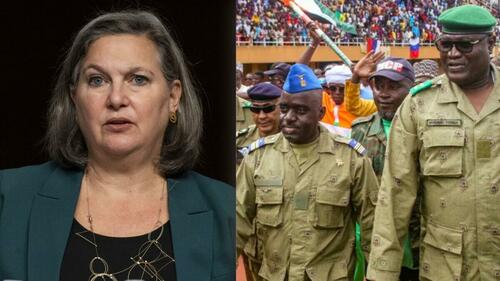 Nuland, now as the State Department number two under Secretary of State Antony Blinken briefed reporters after meeting the military leadership, describing that "conversations were extremely frank and at times quite difficult because, again, we were pushing for a negotiated solution."
She noted that the military leaders were "quite firm in their view on how they want to proceed, and it does not comport with the constitution of Niger." The junta has indeed not budged amid external pressure, even as the neighboring and West-friendly bloc, the Economic Community of West African States (ECOWAS), threatens full military intervention.
Nuland reportedly asked to see Bazoum, who has remained in detention—a request which was denied. "It was difficult today, and I will be straight up about that," she admitted, confirming that Washington is unlikely to get its way in Niger.
Niger's new self-declared defense chief, General Moussa Salaou Barmou, was among the junta officials Nuland met with. Interestingly, Nuland confirmed he had previously received military training from elite American operatives—yet another irony and failure of US foreign policy.
"General Barmou, former Colonel Barmou, is somebody who has worked very closely with US Special Forces over many, many years," she said. "So we were able to go through in considerable detail the risks to aspects of our cooperation that he has historically cared about a lot. So we are hopeful that that will sink in." The Intercept had also previously confirmed this in its reporting.
‼️ The Heart of Darkness Visits Africa

Mistah Kurtz-he dead
A penny for the Old Guy

So ... the inimitable Victoria the Hutt paid a visit to Niger.

Bear in mind that an unknown number of PMC Wagner forces are already there, and are at least "advising" the leaders of… pic.twitter.com/L5WG2wrNQr

— Will Schryver (@imetatronink) August 8, 2023
She said, "We were left to have to depend on Mr. Barmou to make clear, again, what is at stake." Among her chief messages conveyed to the junta leaders included a warning not to cooperate with Russia's Wagner group.
While Wagner is active in Mali and other West and Central African states, there are fears it is seeking inroads into post-coup Niger, and also after Wagner chief Yevgeny Prigozhin earlier praised the coup as being a blow to Western and US-backed imperialism. But Nuland appeared to be left uncertain on the question of Wagner: 
"I raised Wagner and its threat to those countries where it is present, reminding them that security gets worse, that human rights get worse when Wagner enters. I would not say that we learned much more about their thinking on that front," she said.
Days ago the State Department made clear that it saw no evidence of Russia being in any way behind President Bazoum's ouster. Some in the West have still alleged it, however.
But clearly, Russia is watching and maneuvering on at least the diplomatic front (Burkina Faso has sided with the coup in Niger)...
Putin has reopened the Russian embassy in Burkina Faso for the first time in 31 years 🇷🇺🇧🇫 pic.twitter.com/b35FxB3GJt

— Jackson Hinkle 🇺🇸 (@jacksonhinklle) August 3, 2023
If Niger comes under attack from the ECOWAS nations, it is likely that an official pact with Wagner would be reached in that scenario. Over the weekend, Al Jazeera reported, "Niger's coup generals have asked for help from the Russian mercenary group Wagner as the deadline nears for it to release the country's removed president or face possible military intervention by the West African regional bloc, a news report says." Of course, ECOWAS has yet to intervene but could make the decision at a Thursday meeting.
"The request came during a visit by a coup leader – General Salifou Mody – to neighboring Mali, where he made contact with someone from Wagner, Wassim Nasr, a journalist and senior research fellow at the Soufan Center, told The Associated Press," AJ detailed. 
Africans, this woman is not your friend! pic.twitter.com/eE9LiTZFzo

— Kevork Almassian🇸🇾🇦🇲 (@KevorkAlmassian) August 8, 2023
All of this sets the stage for a possible Cold War 2.0 in Africa, where the US and its allies vie for influence against against Moscow. Russia will in turn continue presenting itself as 'anti-imperialist' while highlighting historic Western greed and encroachment on the continent. This also as Niger's junta has severed ties with France amid rumors it is supporting a military intervention to restore constitutional government.
Loading...