---
Over 45 Injured After Massive Explosion Hits Military Optics Plant Near Moscow
On Wednesday a Russian factory northeast of Moscow erupted into a massive explosion of unknown cause, injuring at least 45 people, and causing damage to surrounding buildings. Some are in serious condition.
It happened at the Zagorsk optical-mechanical plant in the city of Sergiev Posad, and while there were overnight reports of another drone attack from Ukraine on the capital city being thwarted, TASS and other state sources are saying it was an accident.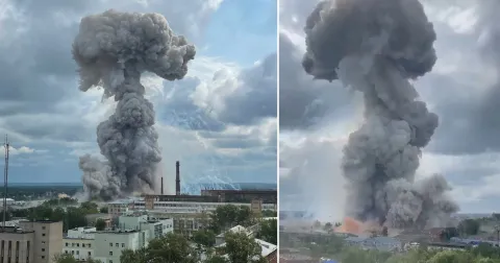 Russia's federal investigative agency has launched a criminal probe over "violation of industrial safety requirements for hazardous production facilities," but acknowledged it is still assessing the cause of the blast.
The plant develops and produces optical and optoelectronic devices for the Russian military and law enforcement, along with other industries including healthcare. It reportedly produces night-vision goggles and scopes for Russia's armed forces.
CNN and others are citing state sources to say it was an industrial accident linked to a pyrotechnic warehouse:
The source of the detonation was a pyrotechnics warehouse rented by a third company on the site of the plant, RIA Novosti said, citing local authorities. It described the incident as a violation of technological processes.

The blast was not caused by unmanned aerial vehicles (UAVs) – military drones that Ukrainian and Russian forces have both used to launch strikes on enemy territory – according to preliminary information, TASS reported.
Very large blast in Sergiyev Posad, 70km NNW of Moscow. Reported to have taken place at Zagorsk Optical and Mechanical Plant pic.twitter.com/aQyW9Poxev

— Euan MacDonald (@Euan_MacDonald) August 9, 2023
Loading...