---
Pope Francis Angers West By Telling Young Russians 'Never Forget' Their Great Heritage
Pope Francis is once again under fire, this time for telling ethnic Russians that they should be proud of their rich heritage. Even the New York Times has taken note Tuesday, and immediately highlighted that the pontiff's remarks which it says have caused "pain" and "disappointment" for Ukrainians and their supporters.
"Never forget the legacy," Francis said in video remarks. "You are the heirs of Great Russia: Great Russia of saints, rulers, Great Russia of Peter I, Catherine II, that empire — great, enlightened, of great culture and great humanity." Watch:
Pope Francis tells young Russians to be proud of their history and uphold the legacy of the great Russian Empire. pic.twitter.com/iJZ42lZa8E

— Russian American Daily (@RussiaUSA) August 28, 2023
"You are descendants of the great Mother Russia, step forward with it. And thank you — thank you for your way of being, for your way of being Russian," he continued.
He was addressing a group of young Russian Catholics at a parish in St. Petersburg via video link. The prepared remarks released by the Vatican are said to be less controversial, but once a longer video of his full remarks began circulating, that's when a wave of criticism and anger was unleashed, including from the former president of Estonia, Toomas Hendrik Ilves, who wrote on X that the remarks were "truly revolting."
The Pope has been accused of parroting Russian nationalist talking points which echo those of President Vladmir Putin. The video address triggered a swift response from Ukraine's foreign ministry, which said: "It is very unfortunate that Russian grand-state ideas, which, in fact, are the cause of Russia's chronic aggression, knowingly or unknowingly, come from the Pope's mouth," according to spokesman Oleg Nikolenko.
The Vatican has firmly rejected the criticisms from Kiev and Western officials, defending the comments as follows:
"The Pope intended to encourage young people to preserve and promote what is positive in Russia's great cultural and spiritual heritage, and certainly not to extol imperialistic logics and governmental personalities, cited to point to certain historical periods of reference," spokesman Matteo Bruni said in a statement.
Additionally, the Vatican rejected that the Pope was taking a political stance on the war, and said his words "are to be read as a voice raised in defense of human life and the values attached to it." Further the Vatican stressed the Pope always condemns a "morally unjust, unacceptable, barbaric, senseless, repugnant and sacrilegious" war.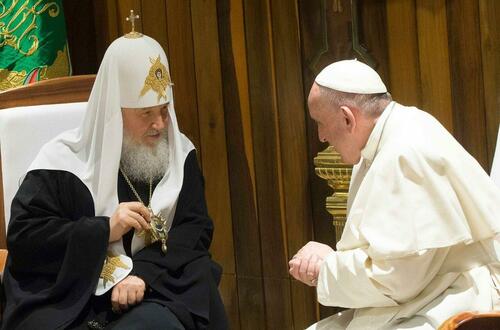 As for the Kremlin, it greeted Francis' words positively, with Putin spokesman Dmitry Peskov calling it "admirable that the pontiff knows Russian history." Peskov added: "It is deep and the legacy is very old, not restricted to Peter I. The entire society and schools work hard to hand over this to young people. The pontiff going along with this effort is really good and makes us glad."
Pope Francis has on a couple of occasions within the first year of the Ukraine war come under fire for appearing to heap criticism on NATO expansion and the Western weapons industry which benefits from the conflict, while at the same time condemning the war.
Loading...