---
Prigozhin Death Confirmed By DNA Tests, Kremlin Announces
The Kremlin has confirmed the death of Wagner leader Evgeny Prigozhin, after his private plane crashed Wednesday north of Moscow, which killed the ten total people on board, including other top Wagner commanders.
Russia's Investigative Committee on Sunday announced that after recovery of the bodies aboard the downed Embraer 135BJ Legacy 600 plane, DNA tests have confirmed that one of them was Prigozhin.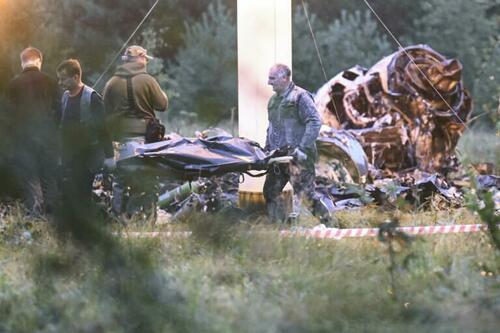 "As part of the investigation into the plane crash in the Tver Region, molecular genetic examinations have been completed," the committee's spokesperson Svetlana Petrenko announced of the results. "According to their results, the identities of all 10 victims have been established. They correspond to the list stated in the flight manifest," the statement added.
The flight list named Prigozhin and multiple other high-ranking Wagner officials, including Dmitry Utkin, widely seen as co-founder of Wagner and in charge of the firm's global operations.
The Kremlin has rejected reports and officials in the West who say this was President Putin carrying out revenge for the June 23-24 Wagner mutiny.
Prigozhin had long lashed out at the "corruption" and bad strategic decision-making of the Russian chain of command, and shortly before the uprising he even took a rare direct swipe at Putin, at one point questioning the entire decision to invade Ukraine.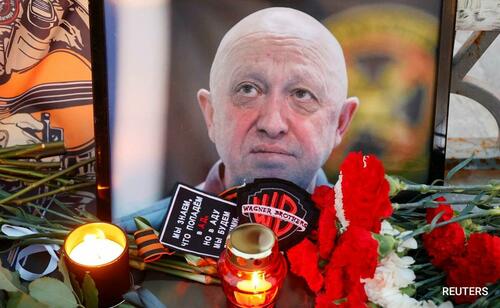 As for the airplane downing, it remains uncertain whether it was brought down by an anti-aircraft missile or midair bombing. There's also the possibility of an air-to-air missile from a Russian fighter jet.
The aviation analysis source AirLive has examined new video of the crash site which its says points in the direction of a bombing which ripped apart the wing and other vital parts of the jet midflight.
The publication, commenting on the wing having so far from the main crash site, writes as follows:
This large piece fell 3 km from the crash site into the river Lodyzhenka, a possible indication of an explosion before impact.

The aircraft was logged by FlightRadar24 taking off from Moscow at 5.46pm local time (15.46 UK), and climbing to a cruising altitude of 28,000 ft, outside the range of many small anti-aircraft missiles.

Thirty-three minutes into the flight, while about a mile south of the village of Kuzhenkino in the Tver region, the aircraft rapidly lost altitude and lost contact.
"In this video footage, the airplane seems to be missing either its vertical stabilizer or one of its wings," AirLive continues. "These indications could mean an internal explosion caused by a bomb onboard or an air to air missile." Additionally, "A few hundred meters from the crash site, part the tail of the plane was found," the report finds.
US officials in the immediate aftermath gave contradictory conclusions to various American media outlets, with more recent statements also strongly suggesting a midair bombing is what brought the plane down.
Loading...