---
Putin & Lukashenko Address The West's 'Worst Fears'
This week both Presidents Vladimir Putin and his close ally Alexander Lukashenko have addressed worst case scenarios which could spin out of the Ukraine war. Both in separate interviews have addressed what the West fears most in fresh remarks. It comes as Russian tactical nukes are being delivered to Belarusian bases.
First, Belarus' Lukashenko said in a Wednesday interview on Rossiya-1 television that the Western allies are very afraid that a new, large-scale war will break out in Europe, resulting in "global catastrophe". 
"I have met with people playing an important role in this, who make radical, drastic and final decisions in the event of an `if','" Lukashenko said, according to Russian state media translation. "What they fear most is a nuclear disaster, and they have been sincere about this. They are afraid of using nuclear weapons in Ukraine. It's only natural," he added.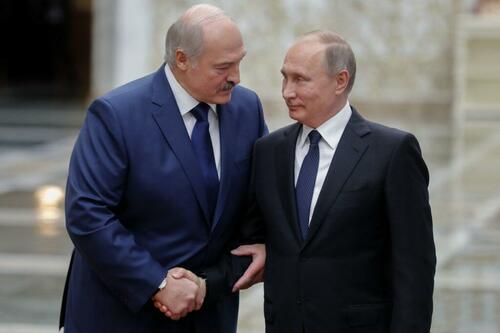 He stressed that Belarus certainly seeks to avoid this as well. "We are not seeking that either, and we, too, are afraid. Because this, experts say, could cause a global catastrophe, and this planet may deorbit, if all these weapons explode," Lukashenko said.
His words came the same day he confirmed that Belarus has begun taking delivery Russian tactical nukes on its territory, in line with previous announcements which deeply alarmed the West. According to more of the Belarusian strongman's words in TASS:
According to Lukashenko, Russia may use nukes, if the enemy invades its territory or if this act of aggression threatens the existence of the state. He urged talks as long as there is an opportunity for them, but the West, he said, has been banning Ukraine from engaging in any.

"I am confident and I have it on good information that the overwhelming majority in Ukraine, including the military who has been fighting and getting killed over there, would like to stop this war now," the Belarusian leader maintained. "But then there are those hyped-up top-level officials led by [Ukrainian President] Volodya Zelensky. He is a `hero' now, touring the globe. He is being kissed, hugged and all that. I thought he was smarter," Lukashenko lamented.
Separately, President Putin in the middle of this week voiced something similar, saying that a nightmare scenario is that "the fire of war will engulf the whole of Europe."
Lukashenko says he's receiving "tactical" nuclear weapons from Russia & would use them in case of "aggression" against Belarus.
"We got missiles & bombs from Russia. A bomb 3x more powerful than Hiroshima & Nagasaki … a million people would die immediately." pic.twitter.com/n4UNb69OjC

— Alec Luhn (@AlecLuhn) June 14, 2023
According to the Russian leader's fresh statements reported on by foreign war correspondent and geopolitical analyst Pepe Escobar [emphasis ZH]...
"We were forced to try to end the war that the West started in 2014 by force of arms. And Russia will end this war by force of arms, freeing the entire territory of the former Ukraine from the United States and Ukrainian Nazis. There are no other options," Putin said.
"The Ukrainian army of the US and NATO will be defeated, no matter what new types of weapons it receives from the West. The more weapons there are, the fewer Ukrainians and what used to be Ukraine will remain."
And importantly, he emphasized that "Direct intervention by NATO's European armies will not change the outcome. But in this case, the fire of war will engulf the whole of Europe. It looks like the US is ready for that too."
Putin strongly suggested that Russia too is "ready" for this worst case outcome if the situation unravels further. While Ukraine has thus far received many dozens of main battle tanks from the West, some of which have already been destroyed on the battlefield by Russia's superior combination of arms, it's widely believed the bigger escalation will come with the eventual supply of F-16 fighter jets.
Loading...