---
Rare Uprising Against US-Backed Forces In Syria Leaves Many Killed
There's been a rare armed uprising in a region of Syria currently occupied by American forces, which has resulted in dead and wounded. Regional reports have tallied at least 13 to as many as 25 people, both militants and civilians, have been killed.
It happened Wednesday in Deir Ezzor province, which for years has had some 1,000 or more US soldiers occupying what is Syria's only oil and gas rich province. The US has trained and supported Kurkish-led "Syrian Democratic Forces" while also cutting off Damascus and most of the Syrian population from its own resources.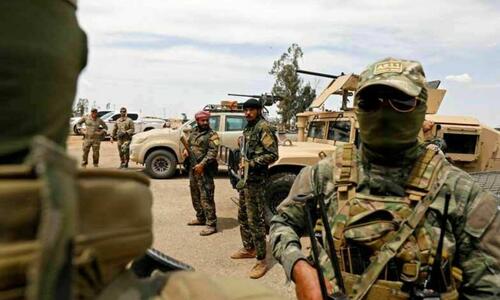 Al Jazeera reports of the Wednesday violence, "Clashes in eastern Syria between Arab tribal fighters and US-backed Kurdish-led fighters have left several people, including civilians, dead and others wounded, opposition activists and pro-government media have said."
It's being called the worst violence there since 2015, when there were still fierce counter-terror operations against ISIS. 
According to more details: 
The clashes first broke out on Monday, a day after the US-backed, Kurdish-led Syrian Democratic Forces (SDF) detained the commander and several members of the Deir Az Zor Military Council, a group that had been allied with the SDF, at a meeting they invited them to in the northeastern city of Hassakeh.

The Britain-based Syrian Observatory for Human Rights, an opposition war monitor, reported that 10 Arab tribesmen and three SDF fighters were killed in clashes in the villages of Hrejieh and Breeha.
Additionally there were reports of at least eight civilians, including a child, killed in the village of Hrejieh. 
Much of the Arab component of the US-backed forces in the region has long been in tension with the area's Kurdish leadership. The Syrian Kurds dominate the SDF, while the Arabs tend to be made up of remnant "Free Syrian Army" factions. While Washington has long sought to present the SDF as a broad coalition of anti-Assad "opposition" fighters, the reality is that the Kurds and their interests totally dominate.
🇸🇾 #Syria - #Rojava: Clashes have allegedly broken out between the SDF and tribal groups in Deir ez-Zor after the SDF arrested Deir ez-Zor Military Council (DeZMC) leader Abu Khawla.

Tribes affiliated with Abu Khawla have since given the SDF a 12-hour ultimatum to release the… pic.twitter.com/3GHbIqHtM2

— POPULAR FRONT (@PopularFront_) August 29, 2023
This has led to fears among the tribes near the Iraq border that the SDF and US will in the end "erase" the eastern region's "Arab identity."
There's also the possibility that pro-Assad forces are covertly encouraging the Arab tribes to rise up and throw off the American occupation. For years, the Pentagon's chief enemy in the region has been 'pro-Iran' and Shia aligned forces, but if there's a broader push to overthrow the US occupation from the Arab tribes, Washington's days occupying Syria are numbered.
Loading...