---
Reports Say Israeli Ship "Galaxy Leader" Hijacked By Houthi Terrorists
Reports from Arab media indicate that the "Galaxy Leader," a vehicle carrier vessel, was hijacked in the Red Sea on Monday by the Houthi group, which is supported by Iran, as reported by The Jerusalem Post.
An Israeli ship named "Galaxy Leader" was hijacked by Yemen's Houthi rebels in the Red Sea on Monday, according to Arab media.#Israel | #Houthi | #Yemen https://t.co/5Ai3Q32Tqf

— The Jerusalem Post (@Jerusalem_Post) November 19, 2023
The Galaxy Leader was last seen in the Red Sea (Position: 19.88°(lat) /38.84°(Ion)). The ship is underway, cruising at 17.5 knots.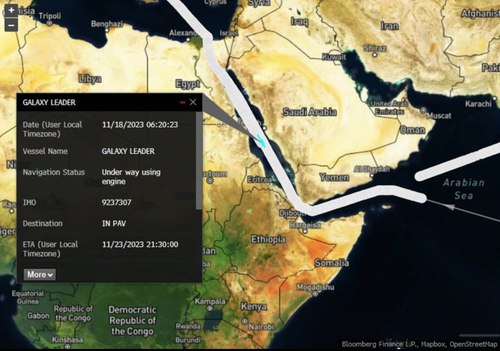 Additional info on the vessel.

Some X users are saying the vessel is an Israeli-owned ship. 
Initial, unconfirmed reports that #IRGCterrorists-backed #Houthis have hijacked the Galaxy Leader vessel with 22 people on board. Follows Houthi threats over the last 24 hours to target #Israel-linked ships. https://t.co/XIFOxsggcz pic.twitter.com/JJuvfoTc5K

— Jason Brodsky (@JasonMBrodsky) November 19, 2023
🇾🇪🇮🇱🚨‼️ BREAKING: The Houthis in Yemen hijacked an "Israeli cargo ship" called "Galaxy Leader" sailing in the Gulf. There are said to be 22 crew members on board the ship. — Israeli Media

Also the spokesman for the Yemeni Armed Forces: An important statement in the coming hours pic.twitter.com/ZQnmN3Dh1H

— Lord Bebo (@MyLordBebo) November 19, 2023
BREAKING: The Houthis have reportedly hijacked Israel's Galaxy Leader ship in major maritime escalation

— Samuel Ramani (@SamRamani2) November 19, 2023
The IDF says the hijacking of the shipping vessel in the Red Sea by the Iran-backed Houthis in Yemen is a "very serious incident on the global scale."

It says the ship was sailing from Turkey to India with an international civilian crew, without any Israelis aboard.

"This is…

— Emanuel (Mannie) Fabian (@manniefabian) November 19, 2023
We have reported multiple Israeli-owned vessels have been attacked in 2023: 
*Developing... 
Loading...