---
In Reversal, Biden Agrees To 'Small Number' Of ATACMS Long-Range Missiles For Ukraine
Up until this week, the White House has consistently signaled that Biden is not in favor of giving Ukraine long-range missiles, chiefly on fears they would be used to attack deep inside Ukrainian territory.
But on Friday it was revealed that as Zelensky visited the Oval Office the day prior, President Biden told him he's willing provide long-range ATACMS surface-to-surface missiles for the first time. But perhaps displaying the administration's reluctance on the issue, this is being reported as a "limited" or "small number" - according to officials.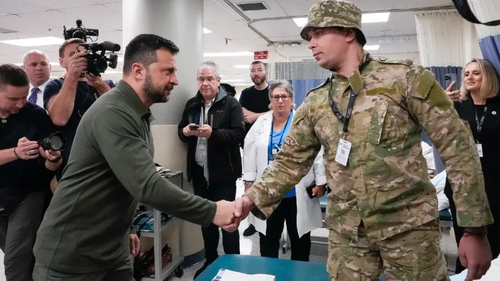 "Officials said that a small number of ATACMS will be sent in coming weeks and more could be provided later," The Wall Street Journal says.
Will the "more" that "could" be provided later be contingent on Kiev not using the initial deliveries to attack Russia? 
The WSJ suggests this initial delivery could be more symbolic than anything, given it's meant to encourage European allies to step up: 
The U.S. provision of ATACMS could also encourage Germany to provide its Taurus long-range cruise missile. Berlin has indicated that it prefers to move with Washington in providing new types of military aid.
Also looming large in the background is Poland's declaration that it will not longer provide arms to Ukraine, and will instead stick to its own defense as the top priority. Kiev no doubt fears that other Western allies could be encouraged to abandon support by Warsaw's surprise about-face.
As this fresh decision to give Ukraine the ATACMS, it was only on Wednesday that US sources told Fox News Pentagon correspondent Lucas Tomlinson that the Ukrainians wouldn't get the advanced system "anytime soon". He wrote the following...
"Ukraine will not get ATACMS, the 190-mile-range tactical ballistic missiles, urgently requested by Zelensky to destroy Russian forces in Crimea and other Russian-held territory 'anytime soon,' officials say. News comes one day before Zelensky visits Biden at the White House."
But now with this reversal in White House policy by the week's end... perhaps the Biden team didn't want Zelensky and his delegation to leave Washington completely empty handed, and hence the ATACMS announcement is a consolation prize of sorts.
Loading...