---
Russia Directs Rare Outrage At Turkey For 'Unauthorized' Release Of Azov Fighters
Russia is expressing a rare moment of outrage directed at Turkey, after Moscow says it was blindsided by the Erdogan government's decision to handover of neo-Nazi Azav battalion prisoners to Ukraine.
President Putin is demanding answers: "Indeed, the return of the Azov leaders violates an existing agreement, and we will discuss this issue with Turkey and, in fact, we have already started talks on this issue," presidential spokesman Dimitry Peskov told a news briefing. Russia says it wants "clarifications" from Ankara, and there has already been official phone calls on the issue. Azov Regiment Commander Denys Prokopenko, the man who for months led the final Azov holdout at Azovstal steel works plant, is now back in Ukraine a free man as a result of Zelensky's intervention.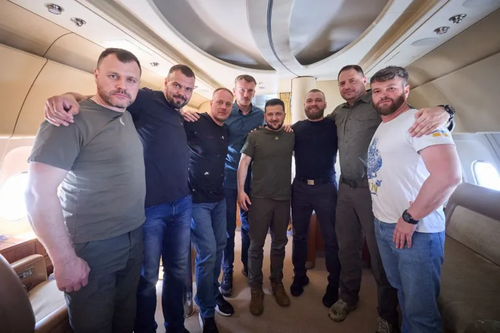 Peskov continued in the terse words directed at Turkey: "It is extremely important that, unlike a number of states from the so-called collective West, Turkey maintains a dialogue with us and supports it at the highest levels." Moscow's position is that the Azov prisoners were to remain in Turkey until the close of the war. Peskov complained that Russia wasn't informed.
"Nobody informed us about this. According to the terms of the agreement, these persons were supposed to stay on the territory of Türkiye until the end of the conflict," Peskov asserted.
"We will be employing these channels for the dialogue, primarily to explain our stance, and will certainly be taking into account the current situation while concluding future agreements in various spheres."
The remarks as well as subsequent state media reporting have further strongly suggested the release of Azov fighters by Turkey undermines and erodes trust and strong relations between Ankara and Moscow. Presidents Putin and Erdogan have throughout the Ukraine war maintained relatively tight, positive relations given the backdrop of the conflict, and Turkey's place in NATO.
Turkey had previously played a leading role in prisoner swaps centered on Azov commanders and fighters that were holed up at Azovstal before Russian forces captured it last year. According to background in Politico: 
The five commanders — from the 12th Ukrainian National Guard, its separate Azov regiment and the 36th Separate Marine Brigade of the Ukrainian army — were ordered to surrender to Russian forces in May 2022 after holding out for more than two months defending the the Azovstal steel plant in Mariupol.

The Azovstal commanders, along with 2,500 Ukrainian servicemen, were taken into Russian captivity. The Kremlin labeled all of them Nazis, with some Russian officials even saying the Ukrainian soldiers deserved execution by hanging.
Zelensky had personally traveled to Istanbul where he met with Erdogan, and secured their release. The Ukrainian leader has been celebrating this as a triumph... "We are returning home from Turkey and bringing our heroes home," announced Zelensky over the weekend. On Saturday he posted the following: 
Zelensky has returned from Ukraine, bringing with him several Azov fighters who have been released by back to Ukraine by Turkey.

The Kremlin blames #Erdogan for breaking agreements as #Azov prisoners were supposed to stay in Turkey until the end of the war. pic.twitter.com/83lTSyru7r

— Dumayu (@DumayuReporting) July 8, 2023
"Ukrainian soldiers Denys Prokopenko, Svyatoslav Palamar, Serhiy Volynsky, Oleh Khomenko, Denys Shleha. They will finally be with their relatives," Zelensky had announced on Telegram. "We are returning home from Türkiye and bringing our heroes home," he said, adding: "They will finally be with their relatives."
Meanwhile, this could do further harm to the Turkey-brokered grain deal. Russia has been complaining to Turkey about the "inability of Western states" to carry out the grain deal, after it has already been hanging by a thread. Turkey is further seeking to give Russia security assurances, including the possibility of naval escorts, after Russia alleged Ukrainian aggression in the region of the Black Sea grain corridor. 
Loading...