---
Russia Expels 2 US Diplomats, Summons Ambassador, Over Spy Row
The Russian Foreign Ministry has formally expelled a pair of American diplomats from the country, on allegations they were conducting unlawful spy activity, including trying to recruit local assets and cultivate informants.
The ministry has accused US diplomats Jeff Sillin and David Bernstein of conducting "illegal activities by liaising with a Russian citizen, (Robert) Shonov". The pair stands accused of seeking to make Shonov, a Russian citizen, a confidential informant. The foreign ministry cited "unlawful activity by the US diplomatic mission, including interference in the domestic affairs of the host state, is unacceptable and will be stopped with determination."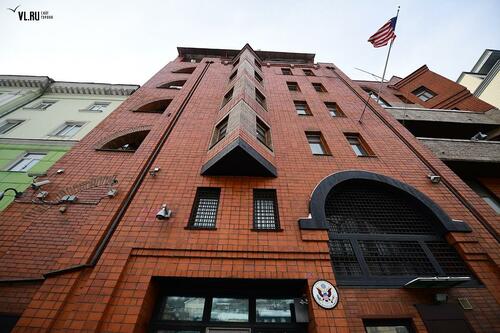 The American officials worked out of the US consulate in the far eastern Russian city of Vladivostok, but which has been closed since 2020. Coincidentally, this is the same city that North Korea's Kim Jong Un has traveled to this week, where he met with President Vladimir Putin. 
"The US ambassador was told that Sillin and Bernstein must leave the territory of Russia within seven days under the status of persona non grata," the Russian statement said.
Shonov was reportedly arrested last may on suspicion of spying for a hostile foreign power - a move which the US State Dept protested, accusing Moscow of using "increasingly repressive laws against its own citizens." Up until the Vladivostok consulate closed, Shonov had worked there for 25 years as part of local staff - a common practice for foreign embassies (hiring local clerks for certain non-security related tasks).
On Thursday, Russian media further indicated that the Kremlin summoned US Ambassador Lynne Tracy and formally issued a diplomatic protest note, related to alleged US interference in Russian domestic affairs.
Following Shonov's arrest last spring, Russia's Federal Security Service, or FSB, in August put out the following statement: he was suspected of "gathering information about the special military operation, mobilization processes in Russian regions, problems and the assessment of their influence on protest activities of the population in the runup to the 2024 presidential election."
In August, Russian media said it obtained footage of Shonov's arrest by the FSB...
👀per @tass_agency, Robert Shonov, an ex-employee of the US Consulate in Vladivostok, pleaded guilty to passing information on how Russia's conscription was affecting the political mood ahead of the 2024 election. (The FSB also released a perp walk video) https://t.co/swfRdzQW2m pic.twitter.com/pMv8f1vzd1

— Mike Eckel (@Mike_Eckel) August 28, 2023
The FSB now says the two US diplomats in Vladivostok were Shonov's handlers. Shonov has since been charged under a newly enacted code of Russian law that criminalizes "cooperation on a confidential basis with a foreign state, international or foreign organization to assist their activities clearly aimed against Russia's security."
Loading...