---
Russia Offers To Negotiate Pulling Nukes From Belarus - Names Key Condition
Moscow has offered to negotiate a nuclear drawdown on the European continent with the United States, with a Kremlin official identifying the conditions for Russia withdrawing its tactical nuclear weapons from Belarus.
But based on the main condition, it is without doubt going to be a non-starter, and yet highlights Russia's very real - and what many may see as very legitimate - concerns. The senior foreign ministry official, Aleksey Polishchuk, told RIA Novosti in a fresh interview that the United States must dismantle its nuclear infrastructure and remove all its nuclear warheads from Europe.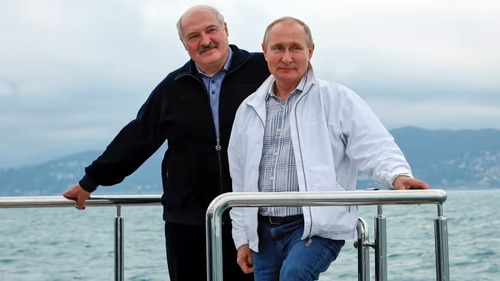 Polishchuk explained that President Putin ordered nuclear weapons to Belarus "in response to years-long destabilizing nuclear policies by NATO and Washington, as well as the fundamental changes that have recently taken place in key areas of European security."
According to his words, he said "Russia could consider withdrawing its tactical nuclear weapons from Belarus if the US and NATO end their hostile policies toward Moscow and Minsk." Polishchuk serves as director of the foreign ministry's department of CIS (ex-Soviet) countries - Belarus, Moldova, and Ukraine.
"This implies the complete withdrawal of all U.S. nuclear weapons to US territory and the elimination of the corresponding infrastructure in Europe," Polischuk stressed.
"This forced containment measure is designed to ensure the security of the Union State [of Belarus and Russia], which, as you know, has a common defense space," he said. 
Putin had by mid-June confirmed that the first Russian nuclear warheads had already positioned in Belarus, and this was later validated by his counterpart, President Viktor Lukashenko. Western mainstream media headlines and pundits had hyperventilated over the nuclear transfer.
Later, after the Wagner mutiny saw a number of units of the mercenary group set up at Belarusian bases, concern rose among NATO countries especially in eastern Europe over whether Wagner would play a role in securing and overseeing the Russian tactical nuclear weapons.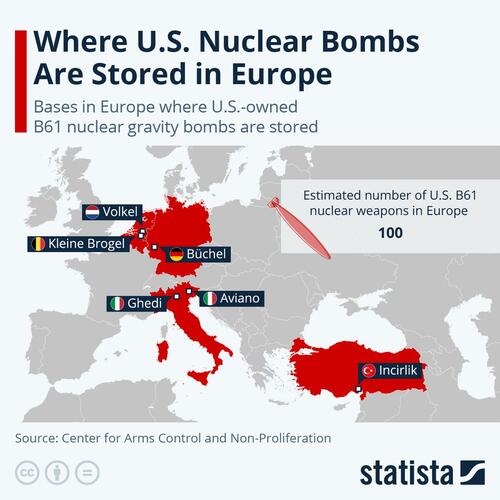 You will find more infographics at Statista
The Kremlin has long highlighted Washington's nuclear hypocrisy as part of providing Europe with the so-called NATO nuclear umbrella. This even has including positioning tactical nuclear weapons in Turkey, which lies just across the Black Sea from Russia.
Loading...