---
Russia Says It Put Down Major Ukrainian Offensive Hours After It Began 
Did Ukraine forces just attempt to kick off their much anticipated major counteroffensive, only to have it put down immediately after it began? 
That's what the Russian Defense Ministry (MoD) suggested early Monday in announcing that Ukraine began a "large-scale offensive" in mounting attacks along five sections of the frontlines in the eastern Donbas region. But Russia said it thwarted the major attack and that some 250 Ukrainian troops were killed, which included Ukraine sending six mechanized and two tank battalions to Russian-controlled southern Donetsk.
"On the morning of June 4, the enemy launched a large-scale offensive in five sectors of the front in the South Donetsk direction," the MoD statement began. "The enemy has failed to reach its goals and was unsuccessful."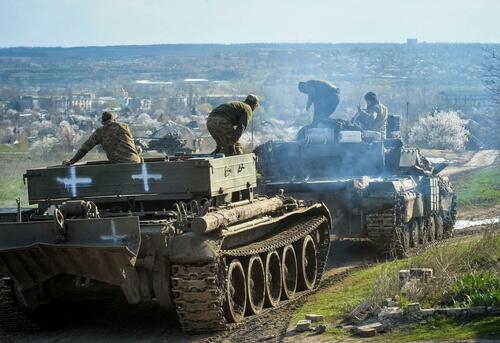 It added that in total the attacking forces lost six tanks, three infantry vehicles, and 21 armored vehicles in what would mark a significant defeat if confirmed. "The enemy's goal was to breach our defenses in what they assumed was the most vulnerable section of the frontline," the Russian military statement continued. 
"During the day, the occupiers made 23 attacks, but all of them were repulsed by units of the defense forces," the MoD continued, in reference to attacks also along front lines of Luhansk, Zaporizhia and Kherson.
The ministry further specified that Russian Chief of the General Staff Valery Gerasimov "was at one of the forward command posts" at the time of the thwarted attacks. 
While Ukrainian President Volodymyr Zelensky just days ago said that his forces stand 'ready' to launch a counteroffensive, he made not mention of the alleged assault Sunday night when he gave his nightly video address.
BBC has remained very skeptical of the Russian military narrative, and yet Kiev has admitted some degree of "offensive actions" Sunday into Monday:
But on Monday Ukraine issued a statement denouncing Russian 'lies' and propaganda that aims to demoralize and mislead the Ukrainian public, but without directly referencing the specific Kremlin claims of a thwarted counteroffensive. According to Reuters: 
The commander of Ukraine's ground forces, Oleksandr Syrskyi, said on Monday that Ukrainian forces continued "moving forward" near the long-contested city of Bakhmut in northern Donetsk. He made no comment on the counter-offensive.

The daily report from Ukraine's General Staff said only that there were 29 combat clashes in the Donetsk and Luhansk regions of eastern Ukraine.

Ukraine's Centre for Strategic Communications did not address the Russian statement directly but said, without providing evidence, that Russia would seek to spread lies.

"To demoralize Ukrainians and mislead the community (including their own population), Russian propagandists will spread false information about the counteroffensive, its directions, and the losses of the Ukrainian army," it said.
Given the vague response from the Ukrainian side in the face of significant Russian claims which are currently grabbing world headlines, this for many observers is going to give credence to the Kremlin statements. 
Reuters in its Monday reporting noted the following: 
Ukrainian Defence Minister Oleksii Reznikov published a cryptic message on Twitter on Sunday, quoting Depeche Mode's track "Enjoy the Silence".
Ukraine's intel operators appear to be taunting Russia here that the counteroffensive won't be announced but could begin at any time…Ukraine's Ambassador to the US @OMarkarova joins @FaceTheNation this morning. https://t.co/ftA0XL4Ra9

— Margaret Brennan (@margbrennan) June 4, 2023
As we detailed earlier, in recent days Ukrainian officials have been openly taunting Russia ahead of the offensive.
If the Russian MoD statements prove true, this marks disaster for the Ukrainian military, given a defeat at the very start of the counteroffensive would likely sap morale and momentum, given also already there have been widespread reports that inexperienced and untrained Ukrainians are being sent to the frontlines in droves amid mounting heavy casualties.  
"We are continuing the defense that we started on February 24, 2022. A defensive operation includes everything, including counteroffensive actions. Therefore, in some areas we are moving to offensive actions," Deputy Minister of Defense of Ukraine Hanna Maliar said. pic.twitter.com/MhAsw2LVa3

— NOELREPORTS 🇪🇺 🇺🇦 (@NOELreports) June 5, 2023
Meanwhile, there does appear to be some degree of confirmation from Ukrainian officials trickling out that "offensive actions" have indeed begun in various sectors.
But Ukraine's deputy defense minister is seeking to stress that Russia is putting out claims of beating back the counteroffensive in order to "divert attention from the defeat" in locations near Bakhmut.
Loading...