---
Russia, South Korea Hold Rare Defense Talks In Pyongyang Amid Soaring US Tensions
Russia has held high-level defense talks with North Korea at a moment Pyongyang is conducing a series of ballistic missile tests aimed at warning the United States while it docks a nuclear-armed submarine at a South Korean port. Threats and even nuclear warnings have been on the rise on the peninsula, also after several provocative joint US-South Korea military drills,
Russian Defense Minister Sergey Shoigu led the talks with his North Korean counterpart, Kang Sun-nam, in the capital on Wednesday, a defense ministry statement confirmed, pledging a deepened 'partnership'.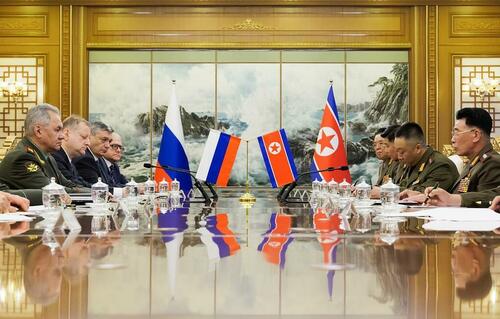 Shoigu declared of "friendly" relations that bilateral relations would be improved in all fields. "I am confident that today's talks will contribute to strengthening cooperation between our defense ministries," he said.
"Visits of warships, official visits of high-ranking defense officials, exchanges of working-level delegations, and personnel training have all contributed to maintaining peace and stability on the Korean Peninsula," Shoigu added.
"I am glad to make your acquaintance and meet with you. I happily accepted your invitation to visit Pyongyang, the capital of a friendly state. I am grateful to my Korean friends for the rich program you have offered. From the very first minute, I felt your care and attention. I hope we will manage not only to work actively, but also to learn a lot of interesting things about North Korea, your culture and traditions, and see the sights," the ministry quoted Shoigu as introducing the talks.
The Russian delegation will be in attendance Pyongyang's celebrations of the 70th anniversary of the end of the Korean War, featuring a huge military parade and display of advanced missiles.
A Russian delegation or officials have not visited North Korea since the pandemic, when the already very isolated country completely shut off its borders in order to prevent spread. There's some speculation currently that the north may have changed its policies, given the Russian defense ministry's visit this week.
Shoigu : North Korea is an important partner of Russia 🇷🇺 . pic.twitter.com/FsThwedBWG

— Nagi N. Najjar (@NagiNajjar) July 26, 2023
This appears to be the case, also given China is sending a delegation of officials to observe the commemoration events:
Russia and China are sending government delegations to North Korea this week for events marking the 70th anniversary of the armistice that halted fighting in the 1950-53 Korean War.

The visits suggest North Korea is further opening up after years of pandemic isolation and is eager to showcase its partnerships with authoritarian neighbors in the face of deepening nuclear tensions with Washington, Seoul and Tokyo.
Washington has over the course of the Ukraine conflict at various points accused North Korea of supplying the Russian military with additional artillery ammo. The two countries actually share a small border. More recently, there have been accusations that Wagner Group, which is now on the outs with Moscow in the wake of last month's mutiny, purchased large quantities of arms and equipment from the Kim Jong-Un government.
Loading...