---
Russian Ambassador Claims Maidan-Style Coup Attempt Unfolding In Belgrade
Russian Ambassador to Serbia Alexander Botsan-Kharchenko has leveled some dramatic allegations against the West in relation to both the Ukraine war and ongoing tensions and clashes in northern Kosovo, which has been focus of international media attention. 
The Russian ambassador claimed that Serbian President Aleksandar Vucic's opponents are plotting and attempting to stage a "Maidan-style coup" in the Serbian capital of Belgrade. His word choice implied he things the West is involved on some level.
Using terminology which has been familiar in Kremlin descriptions of what NATO is doing in Ukraine, Amb. Botsan-Kharchenko said, "This is part of the hybrid war. I would like to stress that anti-Belgrade forces acted almost synchronously; they operate on two fronts - this is the situation in Kosovo and attempts at a Maidan coup here, in Belgrade."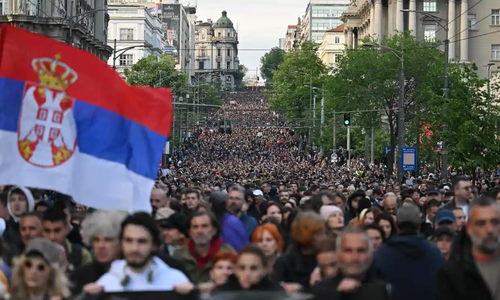 The Russian official's words also referenced recent large-scale anti-government protests inside Serbia, some which gathered in front of the building of Serbia's national broadcaster in Belgrade on Sunday.
These have been billed as 'peace protests' but according to regional media have progressively taken on an anti-government character and anti-government slogans. Some of them have happened with slogans such as "Serbia Against Violence" - and have been focused on gun violence in the wake of recent mass casualty school shootings in Serbia - a rarity for the country's recent history.
The protests have been going strong since mid-May, and people are angry over what they see as government mishandling of recent crises:
Tens of thousands of people have marched through Belgrade, blocking a key bridge in the second large protest since two mass shootings that rattled Serbia and left 17 people dead, including many children.

Protesters gathered in front of the parliament building on Friday before filing by the government's HQ and on to a highway bridge spanning the Sava River, where evening commuters had to turn their vehicles around to avoid getting stuck. At the head of the column was a black banner reading "Serbia against violence."

As the demonstrators passed the government buildings, many chanted slogans decrying Serbia's populist president, Aleksandar Vučić, whom they blame for creating an atmosphere of hopelessness and division in the country that they say indirectly led to the mass shootings.
Additionally Russia's TASS has described the following of recent protests in Serbia: 
The first rally was quite peaceful, with practically no anti-government slogans. People were simply congregating in silence in front of the parliamentary building. During the second rally, protesters blocked a bridge across the Sava River and chanted anti-government slogans. The third demonstration had an anti-government character too. According to the Serbian interior ministry, more than 11,000 people took part in these rallies.
🔴 SERBIA | Thousands have gathered despite the heavy rain in the fourth "Serbia against violence" protest that has just started in Belgrade. pic.twitter.com/xAJpidMpsO

— Balkan Insight (@BalkanInsight) May 27, 2023
Serbia has long been a staunch ally of Russia, however, there's been recent distance and tensions due to the war in Ukraine. Still, Belgrade is generally seen in the West as more oriented toward Russia. It remains that both Slavic countries have long condemned what they see as NATO aggression and expansion, particularly following the 1999 US-NATO bombing campaign over Belgrade.
The Serbian population itself also tends to engage in large demonstrations against NATO and US policies from time to time. In particular the Serb people reject US and international recognition of Kosovo as a sovereign nation, given it historically was an ethnic Serb and Orthodox Christian heartland. This week, President Vucic has ordered Serbian troops to the Kosovo border amid unrest and an unpredictable situation, also as he's condemned the Kosovo government for cracking down on the Serb minority there.
Loading...