---
Russian Mystery Plane That Landed In Pyongyang Making Washington Nervous
A Russian 'mystery plane' spotted in North Korea is making Washington nervous, after Kim Jong Un visited Russia to meet with President Vladimir Putin this moth. The two leaders, deemed 'rogue' actors by the West, are believed to have discussed and possibly inked a weapons deal at a moment Moscow needs more ammunition for military operations in Ukraine.
Citing aviation tracking site FlightRadar24, Bloomberg described it as an an unscheduled Russian military VIP plane that landed in Pyongyang earlier this week.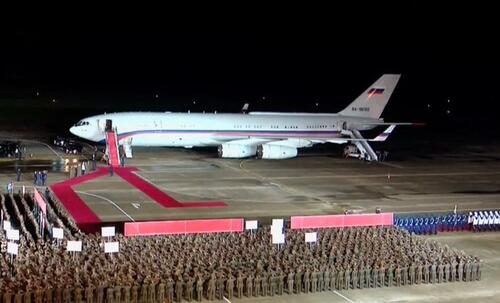 The aircraft was in the North Korean capital for two days, however, both countries have kept mum as to its purpose. It could have been transporting another high-level Russian defense delegation.
"The tail number on the plane indicates it was the same aircraft Russia sent to North Korea in August, just days after Defense Minister Sergei Shoigu traveled to Pyongyang and was guided by Kim through a collection of his country's latest weaponry," Bloomberg noted.
The West fears that that this was part of furthering agreements for technology and weapons transfers between the two countries, which are both heavily sanctioned by the US, also amid efforts to isolate them on the world stage.
Russian planes landing in the broader region might not normally be significant, but is very noticeable in the case of flights to North Korea in particular, given that—
North Korea has had almost no international air traffic since it closed its borders at the start of the pandemic in early 2020. The arrival of two flights in the space of less than two months highlights cooperation between the two countries, which have drawn closer as the US and its partners tried to isolate them with international sanctions.
Kim's trip in Russia, which wrapped up only very recently, lasted two weeks. It included tours of Russian military technology plants, including an aircraft factory in the Russian city of Komsomolsk-na-Amure.
Washington has over the course of the Ukraine conflict at various points accused North Korea of supplying the Russian military with additional artillery ammo. US intelligence has in the recent past alleged that train shipments between the two countries included covert ammo supplies, but something which has not been proven.
The two countries actually share a small border. More recently, there have been accusations that Wagner Group, which is now on the outs with Moscow in the wake of the mutiny in June and after Yevgeny Prigozhin's death, purchased large quantities of arms and equipment from the Kim Jong-Un government.
Loading...