---
Russian Navy Rehearses Blowing Up Ukrainian Ships After Grain Deal Collapse
In the most significant threat and escalation thus far following the Monday expiration and collapse of the UN-backed Black Sea Grain Initiative, which allowed Ukrainian food exports to reach global markets, Russia announced Friday its forces are conducing live-fire exercises in the region of Black Sea shipping routes.
"Russia's Defense Ministry [MoD] said on Friday that its Black Sea Fleet had practiced firing rockets at surface targets in a live fire exercise, two days after it warned that ships heading to Ukraine's Black Sea ports could be considered military targets," Reuters reports based on the fresh MoD statements.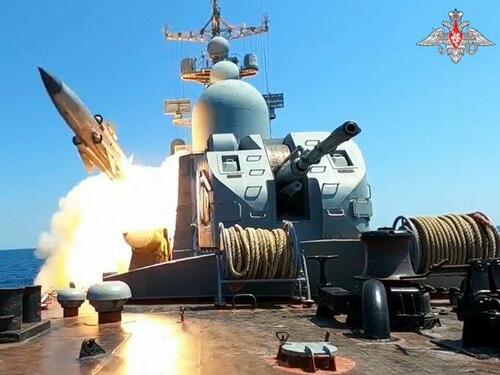 "In accordance with the combat training plan of the Black Sea Fleet forces, the crew of the Ivanovets missile boat carried out live firing of anti-ship cruise missiles at a target vessel..." the Russian MoD specified.
"Telemetry data and video monitoring from unmanned aerial vehicles confirmed the success of the exercise, and the target vessel was destroyed as a result of the rocket strike," it added.
Watch footage released by the Kremlin Friday...
While the statement didn't reveal precise locations, at least some of the drills appear to be taking place in Black Sea shipping route areas previously safeguarded under the UN-backed grain deal.
According to more from the defense ministry statement: 
It said its fleet had also rehearsed closing off areas temporarily ruled off limits to shipping and had practiced "apprehending an offending vessel".
Both Russia and Ukraine have in the last days issued threats and counter-threats, with Kiev saying it is working with Romania on establishing an alternative temporary shipping route to get its grain out of Black Sea ports and through the vital Bosporus Strait.
Moscow has warned that any international ships seeking to enter Ukraine's Black Sea ports would be seen as potentially carrying military cargo, making them a target. Ukraine then responded with a similar warning to ships coming from Russia. Moscow has also accused the Ukrainians of mining vital areas. 
Turkey, a key mediator which got the grain deal up and running when it first went into effect last year, now says it won't get involved in guaranteeing the safety of any grain shipments with the deal over.
#Navy The Ivanovets missile boat of the🇷🇺BSF carried out live firing of anti-ship cruise missiles at a target ship at a training area in the NW part of the Black Sea.The target was a decommissioned Grisha-Class ASW corvette,and it was probably one of the former ships of the🇺🇦Navy pic.twitter.com/se8ZVNYi8E

— Capt(N) (@Capt_Navy) July 21, 2023
Russia has said it remains open to reentering the deal once's its demands are met; however, the latest major attack on the Kerch Strait Bridge has not helped matters, as Russian Deputy Foreign Minister Sergei Vershinin highlighted in new remarks captured in regional media: 
Ukraine has denied using the corridor for military purposes, but Vershinin alleged, without providing evidence, that there had been several instances of this.

He accused Ukraine of using the grain export corridor to launch "terrorist attacks" against Russian interests, including one this week on the Crimean Bridge.

"It was used – as we know, and we have also talked about it – to organise terrorist attacks," he said.

"It was the Crimean Bridge, twice already; it was Sevastopol, remember last October."
Meanwhile, harsh words from Medvedev directed at EU leadership...
Borrell is suffering from harsh verbal diarrhea on the grain deal. Like, it's all our fault, we're starving the world, and deprive the peaceful ukrobanderovtsy of their legitimate earnings.
He'd better decide: it's either Europe finally fulfils our fair demands concerning…

— Dmitry Medvedev (@MedvedevRussiaE) July 21, 2023
And similarly Kremlin spokesman Dmitry Peskov cited Ukraine's "unpredictable actions" which make the region unsafe for commercial shipping and civilian traffic.
"Unpredictable actions and, moreover, the involvement of the Kyiv regime in terrorist acts certainly potentially create a threat in this area," he emphasized.
Loading...