---
Russian Spy Chief Suggests Call With CIA's Burns Opens Up Negotiations
The head of Russia's Foreign Intelligence Service (SVR), Sergei Naryshkin, revealed Wednesday that in the days after Wagner Group's short-lived uprising he held a phone call with CIA director William Burns. While the CIA has remained quiet on its contents, the Russian top spy had a very interesting outlook.
Naryshkin said that June 23-24 mutiny had been but a "pretext" for Burns' call. The Russian spy chief's comments suggest the call was more focused on back-channel dialogue or negotiation among nuclear-armed superpowers, focused on the Ukraine crisis.
"I think it was more of a pretext because the main part of the conversation was focused on discussing issues and events related to Ukraine," he said. "We were thinking, discussing what to do about Ukraine," Naryshkin said of the hour-long conversation with Burns.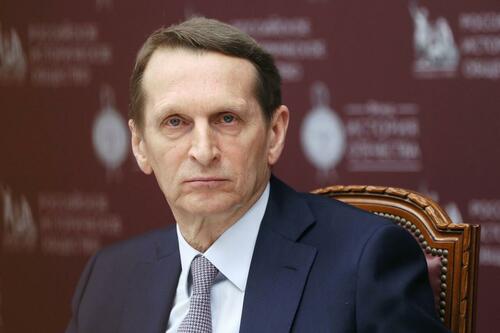 While Biden has previously held to a "nothing about Ukraine without Ukraine" policy - the call and recent high level behind the scenes contacts suggest secret negotiations could be happening, despite all the latest public escalations such as Washington sending Kiev cluster bombs.
Both sides at the very least seem to be acknowledging the 'proxy war' nature of the conflict, which reached 500 days last Saturday.
The New York Times had first revealed Burns' call to the Kremlin at the end of June, detailing that:
William J. Burns, the C.I.A. director, called the leader of Russia's foreign intelligence service after last week's rebellion to assure the Kremlin that the United States had no involvement in it, according to a U.S. official.

Mr. Burns called Sergei Naryshkin, the leader of Russia's foreign intelligence service, which is known as the S.V.R., said the official, who was briefed on the call and spoke on condition of anonymity to discuss intelligence matters. The two men have met at least once before, in Turkey, to discuss concerns over the threat of nuclear escalation in Russia's war in Ukraine.
But as for that Turkey meeting, the US has continued to insist it is not "negotiating" with the Russian side.
The CIA has meanwhile remained mum on the call to Naryshkin, as well as in the wake of the Russian spy director's latest comments characterizing the talks.
Loading...