---
Russia's FSB Says It Thwarted Ukraine-Linked Plot To Assassinate RT Editor-In-Chief
Russian media is widely reporting that RT editor-in-chief Margarita Simonyan was targeted in an assassination plot, uncovered and thwarted by the country's Federal Security Service (FSB).
According to RIA Novosti, the FSB announced Saturday that members of a neo-Nazi group which goes by the name 'Paragraph 88' had been arrested in connection with the alleged plot, which apparently was busted before any attempt.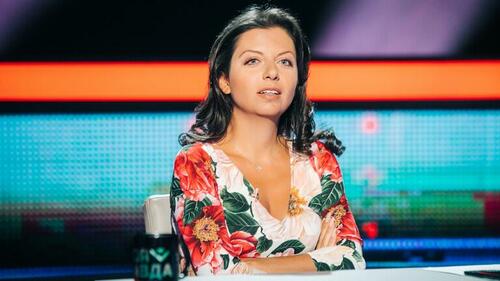 Authorities said that the group was also preparing to target prominent Russian journalist and former presidential candidate, Ksenia Sobchyak.
The neo-Nazi members were alleged to have "carried out intelligence at the addresses of work and residence of Simonyan and Sobchak" - or were allegedly casing their residences in preparation for some kind of attack.
A report in TASS cited that six people have been detained in connection with the plot, and are expected to appear in a Moscow court.
Simonyan put out a statement which was featured in RT. She explained, "The most important thing I want to say is that there are things worse than death. Dishonor is worse than death; treason is worse than death."
She also said that the detained young alleged perpetrators of the plot had been "brainwashed" - this after the FSB identified some of them as minors. According to claims made in RT:
Earlier, the Russian Federal Security Service, which detained five members of a neo-Nazi group suspected of being behind the plan, released footage showing the questioning of an 18-year-old man. In the video, he was seen confessing to organizing a neo-Nazi group and later to taking orders from Ukrainian intelligence in exchange for money. 
Simonyan commented further, "I am very sorry that a 18-year-old boy… was brainwashed in such a way… that he decided that caring for his people is compatible with taking money from Ukrainian intelligence to kill opinion leaders in his own country."
The FSB detailed that suspected plotters were preparing the assassination attempt "on the instructions of the Security Service of Ukraine for a reward of 1.5 million rubles ($16,600) for each murder."
The past year has proven that indeed there have been assassination plots targeting high profile Russians, with the deaths of Darya Dugina and war blogger Vladlen Tatarsky being foremost examples. These were widely believed to be operations backed by Ukraine intelligence in the context of the war, to instill fear on Russian decision-makers and the population.
Loading...