---
Russia's Military Budget Set To Rise By 70%
Russian military spending is set to rise by almost 70 percent — to €106 billion — by 2024, according to a Russian Finance Ministry document published Thursday, an increase that illustrates Moscow's determination to continue its military intervention in Ukraine despite the human and economic costs.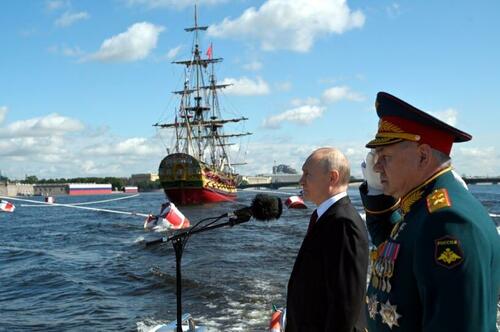 According to the document, Russian defense spending will increase by 68 percent in 2024 compared to this year and will reach 10.8 trillion rubles (€106 billion).
As a result, the amount allocated to defense will represent about 30 percent of total federal spending in 2024 and 6 percent of GDP — a first in Russia's modern history.
The budget for internal security is set to rise to 3.4 trillion rubles (€33 billion), almost 10 percent of annual federal spending.
The priorities for this budget are outlined as "strengthening the country's defense capacity" and "integrating the new regions" of Ukraine whose annexation Moscow has demanded, as well as "social aid for the most vulnerable citizens," just months ahead of the Russian presidential elections in spring 2024.
Conversely, total spending on education, healthcare and environmental protection accounts for barely a third of the defense budget, according to ministry figures. Overall, federal spending will total 36.7 trillion rubles (€359 billion), a dramatic 20 percent increase over 2023.
The government, however, has explained little about how it will finance this large increase, as Russian Prime Minister Mikhail Musustin said last Friday that revenues from the sale of hydrocarbons will be down sharply and will account for "a third of next year's budget" in 2024, whereas before the invasion of Ukraine, they accounted for half the budget.
The sector used to drive Russia's growth, hydrocarbon sales are declining due to international sanctions and the European Union's determination to move away from energy dependence on Moscow.
One indication that the government expects a delicate month ahead for the Russian economy is that it has announced that it has based its budget forecast on the assumption of a dollar worth around 90 rubles, thus betting on a weakening of the national currency in the medium term. The draft budget law for 2024-2026 is due to be sent to the State Duma, Russia's lower house of parliament, on Friday.
Loading...