---
Russia's Navy Port At Sevastopol On Fire After Massive Ukraine Missile Attack
In the overnight and morning hours of Wednesday (local time) a major attack has ensued on Russia's key Black Sea naval port of Sevastopol. Multiple social media videos emerged showing massive blazes at the Sevastopol shipyard, with possible deaths, and at least 24 people being reported injured. 
Initial reporting in Reuters and CNN strongly points to a missile attack, based on statements by Sevastopol governor Mikhail Razvozhaev, who said "Our enemies attacked Sevastopol" and that "The air defense was at work."
#War At the Sevastopol Shipyard, 24 people were injured from the night attack of the APU, 4 of them in serious condition. pic.twitter.com/qNPvE55MBt

— Capt(N) (@Capt_Navy) September 13, 2023
The precise location of the large fire is the Kilen-Balka area of Sevastopol. Reuters reports that "A Ukrainian air attack early on Wednesday sparked a fire at the Sevastopol Shipyard in Crimea, injuring at least 24 people, the Russia-installed governor of Sevastopol, Mikhail Razvozhayev, said on the Telegram messaging app."
At least four of the injured have been reported as being in "serious condition".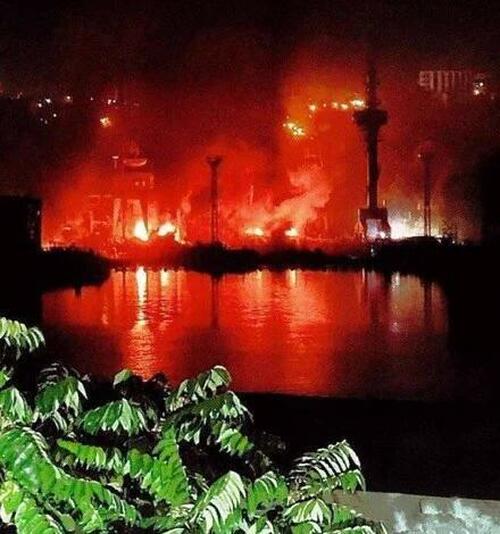 Initial and unconfirmed social media photographs show what appears to be a direct hit on one or more military vessels docked at the naval port.
The aftermath of the attack was captured from multiple angles, appearing to confirm significant damage to ships and port infrastructure...
Fire in #Sevastopol Marine Plant 🔥🔥🔥 pic.twitter.com/lhPHwnOLDy

— Aurora Borealis 🤫 (@aborealis940) September 13, 2023
Open source analysts are already suggesting that at least one docked Russian submarine may have been taken out in the attack. 
An assault of this size is indeed likely more than just the work of drones; instead Ukraine probably utilized long-range missiles supplied from Western NATO partners. 
Appears that Ukrainian forces have successfully hit the Sevastopol Shipyard drydocks this morning, likely occupied by a Russian Kilo-class sub and Ropucha landing ship. pic.twitter.com/wNJHaVfF3t

— OSINTtechnical (@Osinttechnical) September 13, 2023
Currently, the Biden administration is moving toward supplying Kiev with either ATACMS or GMLRS missiles. These are long-range systems and the administration was previously reluctant to supply them on fear of direct escalation with Russia. 
Huge initial fireball captured by local residents...
Huge explosions as a result of a presumed Ukrainian attack in Sevastopol, the HQ of the Black Sea Fleet in Crimea. Russian authorities say the Sevmorzavod shipyard has been targeted. Ships based in Sevastopol frequently fire missiles at Ukrainian cities. pic.twitter.com/dKgb0CEtLr

— Yaroslav Trofimov (@yarotrof) September 13, 2023
But this massive attack on Sevastopol seems another act of desperation. Given the failing counteroffensive, it looks like Kiev is "going big" on attacks against Russian territory, in hopes of sparking a broader conflict that draws NATO in, which Ukraine likely sees as its only hope. 
One more item of note, presented with no commentary. A major attack takes place on Crimea by Ukraine takes place on the day Elon Musk's biography drops, amid mainstream media's desperate spin of the SpaceX founder's interference with Starlink in Ukraine, and at the same time there was a major, global, outage of the satellite internet service...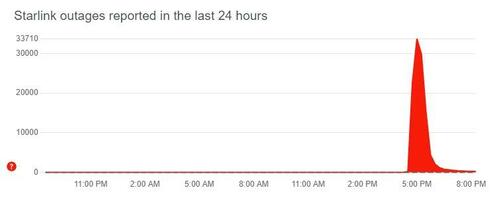 SpaceX acknowledged the Starlink outage on X at 2033ET, and then wrote at 2139ET on X that "The network issue has been fully resolved."
Loading...