---
Saudi Arabia's 'Bone Saw' Prince To Host Ukraine Peace Summit
Saudi Arabia is now deigning to play peace-maker in Ukraine, having issued an invitation to several developing nations in order to woo them into Kiev and the West's corner on the conflict. This has included an invite for China, India, Brazil and South Africa to come to Jeddah in early August. 
Ukrainian government representatives will reportedly also be there, but have yet to publicly confirm the plans, reported by The Wall Street Journal over the weekend. A top level White House official is also expected to represent the United States.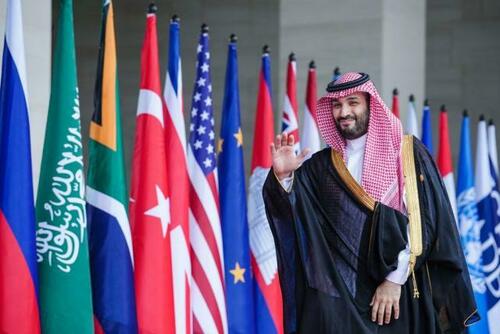 However, as The Associated Press cites, "Planning for the event is being overseen by Kyiv and Russia is not invited, the official said."
The summit, described as having as a vital focus the exploration of ways to achieve peace, is scheduled for Aug.5 and 6, and is to include representatives from some 30 countries total. The initial reporting stated the hosts hope to frame the basis for future peace negotiations with Russia toward Ukraine's favor.
And once again, fence-sitting China appears to be in the diplomatic crosshairs. "Western diplomats said that Saudi Arabia was picked to host the second round of talks partly in hopes of persuading China, which has maintained close ties to Moscow, to participate," wrote WSJ on Saturday.
"Riyadh and Beijing maintain close ties. Earlier this year, China helped negotiate a recent thaw between Saudi Arabia and its regional foe, Iran, months after the Saudis hosted Chinese President Xi Jinping at an Arab summit," the publication noted. 
Of course, there's significant and dark irony in Saudi Arabia's 'bone saw' prince playing host to a summit supposedly all about achieving 'peace'.
His relations with Washington and the West have been strained since 2018, but also after not cooperating with the US on energy, as months ago Riyadh defiantly cut oil production and thereby raised prices.
Meanwhile, in NATO-land...
Andrew Bacevich: "Kyiv's fate has always been an afterthought. The real goal is reinvigorating NATO and, by extension, US primacy." https://t.co/ejBQV1tlUR

— Sophia (@les_politiques) July 29, 2023
As for peace plans, President Putin has recently reiterated in public comments that he always stands ready to negotiate in good faith, but both side continue to blame the other for thwarting any hope for ceasefire. 
Loading...