---
Over 100 Bodies Found In Israeli Kibbutz; Biden Confirms 11 Americans Killed & "Likely" More In Captivity
Update(1905ET): The numbers of Israeli hostages being held by Hamas has been revised upward to an estimated 150. By Monday's end at least 900 Israelis have been reported killed and nearly 2,400 wounded since the Saturday surprise assault from Gaza. Palestinian emergency sources report 560 dead and over 2,700 wounded in Gaza has heavy Israeli bombardment of the strip has continued.
In one single kibbutz near the border, at least 108 bodies have been discovered amid the ongoing Israeli search, rescue and recovery efforts: 
Israeli volunteer rescue organization ZAKA said Monday night that it had discovered more than 100 bodies in Kibbutz Be'eri near the Gaza border.

"Large teams cleared bodies all day from kibbutz Be'eri," the organization said. "There were weapons everywhere, grenades, and RPGs. We cleared 108 bodies and we are not done yet."
Front gate of the Kibbutz after the attack. pic.twitter.com/bNmGee4MnT

— OSINTtechnical (@Osinttechnical) October 9, 2023
The New York Times has also begun to piece together eyewitness accounts of the Saturday invasion into southern Israel, as more identifies of the kidnapped have come to light:
The hostages were seized from homes in towns along Israel's border with Gaza — including the Kalderons' small village of Kibbutz Nahal Oz — as well as from military bases and an enormous outdoor dance party.

They include civilians, soldiers, people with disabilities, children, grandparents and even a 9-month-old baby. The hostages are also believed to include at least one Palestinian resident of Israel, a bus driver who spent the night near the outdoor party after driving Israelis there, his family said.

The capture of so many Israelis by Palestinian militants has taken the Israeli-Palestinian conflict into uncharted territory — not only in the sheer number of hostages, but also in the dire threats Hamas is making against them.
And The Washington Post has verified some of the horrifying footage to have emerged, including summary executions of Israeli hostages in the immediate aftermath of the Hamas/PIJ incursion: 
At least four Israelis taken hostage by Hamas during their unprecedented incursion into Israel on Saturday were killed soon after being taken captive, according to videos reviewed by The Washington Post. Graphic video shared on Telegram on Oct. 8, and verified by The Post, shows multiple bodies in the street in Be'eri, a kibbutz in southern Israel, just yards from where Hamas militants were filmed walking with several civilians who appear to be those same hostages.
Huge swathes of Gaza are under rubble...
JUST IN: Drone footage of Gaza city has been released by Bloomberg.

Citizens along the Gaza Strip are being caught in the crossfire as the war between Hamas and Israel escalates.

Hundreds of apartments and homes have been demolished displacing more than 123,000 people.

The IDF… pic.twitter.com/1CTbUZDugL

— Collin Rugg (@CollinRugg) October 9, 2023
Netanyahu in a Monday speech vowed, "What we will do to our enemies in the coming days will reverberate with them for generations."
Meanwhile, Hezbollah's involvement from the north appears to be growing.
The US has issued a stern warning for the Lebanese Shia paramilitary group not to enter the conflict. President Biden on Monday said that at least 11 Americans were confirmed killed. He said there are "likely" more being held hostage. Many of these may be dual citizens. Here's part of Biden's statement:
"It's heart wrenching," Biden said in a statement. "These families have been torn apart by inexcusable hatred and violence."

Biden said his administration is aware other U.S. citizens are missing and that they are working with Israeli officials to learn more about their whereabouts, though he didn't elaborate on how many Americans are unaccounted for as the conflict rages.

"The safety of American citizens -- whether at home or abroad -- is my top priority as President," Biden said.

"While we are still working to confirm, we believe it is likely that American citizens may be among those being held by Hamas," he continued. "I have directed my team to work with their Israeli counterparts on every aspect of the hostage crisis, including sharing intelligence and deploying experts from across the United States government to consult with and advise Israeli counterparts on hostage recovery efforts."
Hezbollah targeted the command centre of #Israel's Galilee Division based at Branit military barracks with 5 guided missiles in response for the martyrdom of 3 Hezbollah fighters in Israeli shelling in southern #Lebanon.

Slow and unmistakable escalation on the northern front. pic.twitter.com/Rx5nvaDpXl

— H. Sumeri (@IraqiSecurity) October 9, 2023
Below is a brief review of other developments of the last 24-48 hours, via Academy Securities:
Israel has seized control of the communities around Gaza that were at the center of the horrific attacks by Hamas over the past 48 hours.
Israel's Ministry of Defense has ordered a "complete siege" of Gaza cutting off electricity, food, fuel, and water to the region and has called up 300,000 reservists.
Israel flew in munitions from the U.S. over the weekend, including GBU-39 Small Diameter Bombs and the expectation is that Israel will ask for small arms, ammunition, tank rounds, and Tamir interceptors for Israel's Iron Dome missile defense system.
The U.S. is also sending the USS Ford Carrier Strike Group to the Eastern Mediterranean to show solidarity with Israel and to discourage other parties from getting involved/supporting Hamas in this conflict, i.e., Iran and Hezbollah.
Hezbollah exchanged artillery and rocket fire on Sunday with Israeli forces raising concern of an escalation of the violence, but Lebanese Foreign Minister Abdallah BouHabib said that his government has been assured by Hezbollah that it will not join the fighting unless Israel "harasses" Lebanon.
While unconfirmed by U.S. intelligence (and denied by Iran), Iranian security officials reportedly helped plan Hamas's attack and gave the "green light" for the assault at a meeting in Beirut last Monday, according to senior members of Hamas and Hezbollah.
Russian Foreign Minister Sergey Lavrov has said that creating a Palestinian state was the "most reliable" solution for peace in Israel and could see Russia as a peacemaker (it has a relationship with all the parties involved).
And thoughts on market-related impact via The Academy T-Report:
How far does Israel go, given that this has shaken the nation to its core. The veil of safety has been pierced. Maybe the better question is how far can they go without turning a part of the world against them? While the most vicious and deadly battles will be fought in the streets (and underground) there will be information and misinformation campaigns trying to shift global opinion. Can you "win" the battle but risk "losing" the war? This will be tricky, and the relative small size of the Gaza Strip and a high population density will make it extremely difficult to be effective and not harm civilians. This will be a tough balancing act.

Do others get involved? While many find it difficult to believe that Hamas acted alone, that remains the official line. This has not escalated into a battle for Israel on multiple fronts. Iran has not been brought into the war, which would up the ante significantly.

While not directly part of this discussion, our increasing concern that our global adversaries understand that inflation has become an "Achilles Heel" and this will only make adversaries more aware of that.

Over the next 48 hours, we should get answers to these questions, which will help from how the markets and global economy and companies will respond (many companies with operations in Israel have faced an incredibly difficult and scary weekend, that is continuing into this week).

On markets fronts:

Oil should be higher. There is risk to shipping. There is risk to whatever Iranian oil has been making its way to the market (especially if they are implicated in any way). The Saudis could increase production to help, but how this is being viewed on social media in the region could shape their behavior significantly (the information war will be important). Our inability, unwillingness, or lack of urgency in replenishing the Strategic Petroleum Reserve is not helpful as our "insurance policy" was used and hasn't been re-upped.

Treasury yields lower. It doesn't matter what oil does, yields will be lower. The price of oil is not in the Fed's control right now, but the risk of economic slowdown is. The risk of escalation and spreading the violence is real and should keep investors focused on safety. Many (including us) thought treasury yields were too high before this, so look for a push to lower yields, regardless of what oil does. Oil is a secondary factor in the rates market right now.

Stocks are a wildcard. I've been in the "bad news is good news" for stocks and that seemed to play out again today. I don't know how much "bad news" stocks can take before the lower yields/higher stocks algos fail and we get a more traditional "flight to safety" like we had overnight. If things don't escalate, stocks can continue to squeeze higher as so much negativity was priced in (while at the same time pricing in a hawkish Fed). I'd be reducing equity exposure here, still long, but this "bad news" has the risk of being really bad.
* * *
Update(1350ET): Casualties in the Gaza Strip are soaring (at over 560 dead) after a full day of very heavy, frequent airstrikes by the Israeli Air Force. For the first time Monday, Israel says it has pacified the border, with a military spokesperson announcing, "There are no terrorists crossing the fence from Gaza into Israel." The confirmed death toll among Israelis is now over 900.
"Since this morning, there have been a few encounters with terrorists. There have been none at all in the last few hours," the military spokesman said. Israel earlier announced a full "siege" of Gaza, and there are signs a ground invasion could be imminent. Hamas and Gaza militants have announced holding at least 100 hostages, but now Hamas is threatening to execute them. Netanyahu on Sunday had warned Palestinian civilians to begin clearing out, but as some observers have noted, where will they go? 
According to the latest from the Times of Israel on Hamas' new threat to kill more Israelis:
The Hamas terror group is threatening to begin executing hostages in response to Israeli strikes in Gaza carried out without warnings, the spokesperson for Hamas's Izz ad-Din al-Qassam Brigades says, according to Gaza's Shehab news outlet.

"From this hour, any targeting of our people in the safety of their homes, without warning, will be met with the execution of civilian hostages, which will be broadcast with video and audio," says the spokesperson, who goes by the nom de guerre Abu Obeida.

A defense official reportedly told Knesset members in a briefing earlier in the day that Israel was not dropping dummy bombs on roofs of buildings set to be targeted, meant to warn civilians to flee.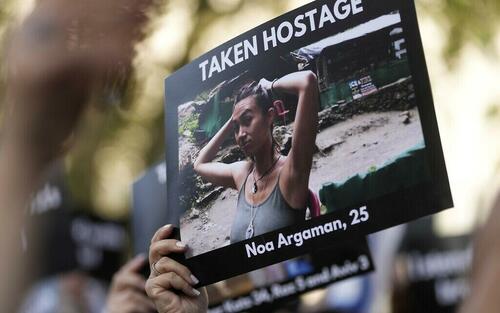 Many of these hostages, foreigners among them, are believed to have been kidnapped from the Saturday music festival which had been taking place in the southern desert, near the border with Gaza.
Meanwhile more shocking footage has emerged as Hamas invaded the event and began shooting civilians at random: 
New footage from the music festival in Israel

pic.twitter.com/lgPr7FiBaJ

— The Post Millennial (@TPostMillennial) October 9, 2023
* * *
Update (1100ET): Israel has confirmed its forces are now striking targets in southern Lebanon, as the conflict slides into the much-feared scenario of a two-front war... Hamas in the south, Hezbollah in the north. Interestingly, it seems that Gaza-based militants are trying to provoke Hezbollah's entry into the war, given they need the firepower and for the IDF to be bogged down in the north:
ALERT Palestinian Islamic Jihad claims Israel infiltration from Lebanon: official
ISRAELI WARPLANES ARE BOMBING SOUTHERN LEBANON.

This is a severe escalation. This came after clashes between Israeli occupation forces and unknown gunmen.

Hezbollah won't sit and watch. Expect a retaliation. pic.twitter.com/55oD5HLeBj

— Hadi Nasrallah (@HadiNasrallah) October 9, 2023
According to CNN:
Israel Defense Forces (IDF) said in a brief statement on Monday that its helicopters are currently striking in Lebanese territory. No further details were provided. 

Earlier, the IDF said a "number of armed suspects" who "infiltrated" into Israel from Lebanon were killed, and that IDF soldiers were searching the area.

The United Nations Interim Force in Lebanon (UNIFIL) peacekeepers said in a statement on Monday that it has reported explosions near Al-Boustan in southwest Lebanon.
There are also reports IDF heavy armor has been seen headed to northern border with Lebanon:
Cross-border attacks are intensifying in the growing tit-for-tat:
BREAKING: Israeli army targets three Hezbollah watch towers in southern Lebanon. pic.twitter.com/TAlBAzCm92

— The Cradle (@TheCradleMedia) October 9, 2023
* * *
The total death toll among both sides as all-out war between Israel and Gaza militants enters its third day has topped 1,100 - with most of these deaths being Israeli, at an estimated 800.
Israel's defense minister has as of Monday ordered a "complete siege" of Gaza which alarmingly includes cutting off all supply of electricity, fuel, and food, but even water for a densely packed population of 3+ million people in the strip.
Yoav Gallant said, "I have given an order – Gaza will be under complete siege." He added: "We are fighting barbarians and will respond accordingly."
At the same time a statement from energy minister Israel Katz confirmed, "I instructed that the water supply from Israel to Gaza be cut off immediately."
GAZA pic.twitter.com/W9S8m1zd36

— The_Real_Fly (@The_Real_Fly) October 9, 2023
Israel Defense Forces (IDF) have reportedly retaken all the southern towns and settlements which were hit hardest by Saturday's shock invasion of Hamas and Palestinian Islamic Jihad (PIJ) militants from Gaza.
A fuller picture of the devastation is still emerging. Israeli authorities have confirmed recovery of 260 bodies from the site of the desert music festival which was among the first to be invaded by Hamas gunmen...
Mapping and timing the atrocities at the Nova Festival near Rei'm on Saturday morning (long thread).

Working with new drone footage, multiple sets of satellite imagery, and videos, it was possible to assemble a small idea of what happened in a small area.

Note- content warning pic.twitter.com/Y6QoOxo2Bg

— OSINTtechnical (@Osinttechnical) October 9, 2023
Meanwhile, the IDF continues to pound the Gaza Strip on an unprecedented scale, with top Israeli officials increasingly voicing their approval for a ground invasion, which some say is imminent: 
Israeli strikes in Gaza have killed at least 493, including dozens of children, and left 2,651 injured, according to the Palestinian Ministry of Health.

An incursion by Gaza militants of this scale has not been seen in Israel since the nation's founding in 1948.
But if an Israeli ground assault does ensue, it will be deeply controversial inside Israel given the likely high casualties the IDF will take on (as has been the case in prior high-risk ground incursions).
There are emerging reports that Gaza-based terrorists have beheaded IDF soldiers:
Can confirm that images showing Hamas beheadings of IDF soldiers exist. Do not go searching for them.

Haven't seen images of that magnitude since ISIS was prevalent.

— OSINTtechnical (@Osinttechnical) October 8, 2023
At the same time, Hamas and PIJ terrorists are now holding some 100 Israeli hostages taken in Saturday's cross border raids.
According to Reuters, Qatar is currently seeking to mediate hostage negotiations. The Palestinian side has demanded the release of some 5,000 of their own who have been held in Israeli jails, sometimes for years.
There are believed to be Americans (or dual US-Israeli citizens) currently in captivity in Gaza:
A spokesperson for the NSC said the agency can confirm the deaths of "several" U.S. citizens, but did not provide a specific number.

"We extend our deepest condolences to the victims and to the families of all those affected, and wish those injured a speedy recovery," the spokesperson wrote in a statement shared with The Hill.
Additional US media sources reported that so far four Americans have been confirmed killed. And later in the morning on Monday the State Department announced nine Americans have been killed.
U.S. STATE DEPT SPOKESPERSON CONFIRMS THE DEATH OF NINE AMERICANS IN ISRAEL
NEW: American citizens have been taken as hostages by Hamas according to Israel Minister for Strategic Affairs Ron Dermer.

In response to these reports, Secretary of State Blinken says the US is "working overtime."

One person who doesn't seem to be working overtime is Biden who… pic.twitter.com/kXU8cyDbUy

— Collin Rugg (@CollinRugg) October 9, 2023
BBC is also reporting that at least 10 British citizens are feared dead or missing. According to Israeli officials, the numbers of Americans confirmed to be in captivity could grow as more details emerge:
Ron Dermer, Israel's minister for strategic affairs, confirmed American citizens were among those taken captive but gave no details about them or those who had been killed.

"Unfortunately, I can't," he told CNN. "We have a lot of dual citizens in Israel. I suspect there are several, but we're still trying to sort through all of all this information after this horrific surprise attack and we'll make sure to put that information out so that the loved ones of these people who were killed and who are held hostage, they know as quickly as possible."
On Sunday the Pentagon announced it is sending an aircraft carrier and warships near Israel in a "show of support" - also as Americans as well as dual passport holders and tourists scramble to get out.
Ben Gurion international airport has come under a barrage of rockets fired from the strip, disrupting all flights in and out.
BREAKING: Direct hit on Ben Gurion airport, Tel Aviv by the Palestinian resistance's missiles pic.twitter.com/doj3dIKcXt

— The Cradle (@TheCradleMedia) October 9, 2023
developing...
Loading...