---
Smartmatic Voting Machine Company Implicated In $4 Million 'Slush Fund' Bribery Scheme Using 'Fake Contracts'
Voting machine company Smartmatic, which is suing Fox News and former President Donald Trump's top allies over their claims that the company's machines facilitated cheating in the 2020 US election, has been accused as uncharged co-conspirators in a bribery scheme in the Philippines.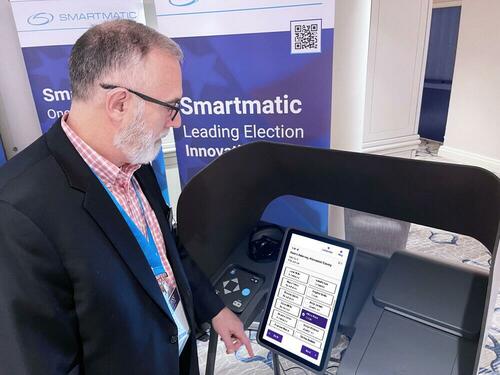 According to court documents revealed by CNN, the Department of Justice has filed money laundering charges against former Filipino election administrator, Andres Bautista, who has been accused - along with unnamed Smartmatic executives - of illegal financial transactions.
The accusations levied against Smartmatic suggest attempts to funnel $4 million to Bautista, adding fuel to the allegations surrounding the 2020 U.S. Presidential Election, and the lawsuits filed by Smartmatic against Fox News and former President Trump's allies.
The new allegations further complicate Smartmatic's defamation suits against various pro-Trump figures and media organizations, who have sought to underscore Smartmatic's ties to Venezuela and its involvement in foreign elections as defense in their ongoing legal battles.
Smartmatic has sued Fox News as part of a $2.7 billion lawsuit, in which they have demanded a full retraction and apology from the network.
According to Smartmatic spokeswoman Samira Saba, the Florida-based company "has never won a project through any illegal means," and that the claims in the Bautista case are "not related to Smartmatic election security or integrity."
Smartmatic filed massive defamation suits against Fox News, Newsmax, OAN, several individual Fox hosts, ex-Trump lawyer Rudy Giuliani, former Trump campaign lawyer Sidney Powell, MyPillow CEO Mike Lindell and others. They all deny wrongdoing.

Some of these pro-Trump figures have tried to push back against the defamation suits by highlighting Smartmatic's ties to Venezuela and its involvement in foreign elections.

OAN recently asked a judge to let them seek records from the Philippines government and other countries as part of the discovery process, claiming they have files about "investigations… scandals.. and major problems" involving Smartmatic machines. -CNN
According to the charging documents, "slush funds" were used by the Smartmatic executives via "fake contracts" to facilitate the alleged bribes. The co-conspirators are accused of having "caused or attempted" to funnel the $4 million to Bautista "in violation of US money laundering laws."
Bautista denies the allegations.
"I did not ask for nor receive any bribe money from Smartmatic or any other entity," he claimed on X, adding that the elections he was in charge of were "hailed" by observers as being the "best managed" in Filipino history.
He also says he would "respond to the alleged charges at the proper forum and time" to the criminal charges, which were filed Tuesday.
As CNN notes, "The new allegations of corrupt foreign dealings could boost the defense for Fox News and the other Trump allies currently fighting Smartmatic in court. They could argue that it wasn't their lies about the 2020 election that caused Smartmatic to lose business, but rather the company's reputation was tarnished by the allegedly criminal behavior of some of its employees."
The complaint against Bautista and the co-defendants doesn't accuse them of tampering with election results.
Loading...