---
South Africa Mulls Moving BRICS Summit To China Over Putin Arrest Warrant
South African media is reporting that the country is mulling forfeiting its role as host of this year's BRICS summit due to growing pressure from the West over the ICC arrest warrant for Russian President Vladimir Putin.
It was on March 17 that the International Criminal Court issued the arrest warrant on charges of war crimes, which "requires" countries party to the Rome Statute to make the arrest. South Africa as a signatory would be under obligation, but non-signatories like China or India are not under obligation.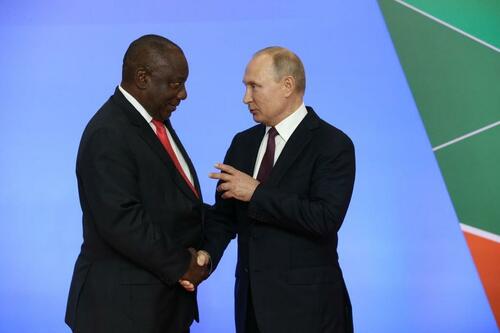 The 15th BRICS summit is currently set to take place in South Africa's Durban in late August this year, but controversy over plans of President Putin to travel in person has cast a cloud over the event.
Adding to the controversy, initially the South African government declared it has granted Diplomatic Immunity and Privileges Act to all international officials attending the BRICS summit. After this, pressure only intensified centered on the Rome Statute.
One report in South African media made the following claims: 
South Africa is exploring the possibility of moving the BRICS summit in August to China to avoid the legal dilemma it faces of having to arrest Russian President Vladimir Putin if he visits South Africa, officials say.

Russian Foreign Minister Sergey Lavrov was contemptuous about this idea when asked about it after a meeting of the BRICS foreign ministers in Cape Town on Thursday.

He said somewhat contradictorily that the idea had been reported in a "British tabloid and I don't read British newspapers" — apparently a reference to the Daily Telegraph. South Africa's international relations minister, Naledi Pandor, said the issue of Putin's possible attendance at the summit had not been discussed by the foreign ministers.

However, South African official sources confirmed that Pretoria was in fact seriously considering moving the summit to China — with a second option to hold the summit virtually — for all the five presidents of the bloc, which also includes China, India and Brazil.
Pushing back against the pressure, China has stepped in, offering to assist South Africa with security: 
China's top police officer has promised South Africa that Beijing will help bolster security for the BRICS summit in August amid controversy over Russian President Vladimir Putin's possible attendance while an international warrant is out for his arrest.

During a meeting with South African Police Minister Bheki Cele in Beijing on Thursday, Public Security Minister Wang Xiaohong said China was willing to work with South Africa to "strengthen the security" of the BRICS summit to be held in Johannesburg on August 22-24.
There is precedent for heads of state being granted temporary immunity - for example when Sudanese President Omar al-Bashir visited South Africa in 2015 despite at the time being wanted by the ICC for war crimes. But this was legally challenged within the South African courts at the time.
It's unclear how realistic or practical it would be to actually move the BRICS summit to another host country at this late stage. South African officials have tried to downplay all of this as a distraction:
"A regional conflict has not replaced eradicating global poverty as the world's greatest global challenge," Naledi Pandor, Pretoria's minister of international relations and cooperation, said recently. "This is not the world we hoped for when the Cold War ended."
But others are questioning South Africa's "neutral" stance on the Ukraine war, given recent charges from US officials of secret deals involving South African weapons shipped to Russia. The allegations have been refuted by Pretoria, however.
Loading...