---
Sullivan's 'Secret Talks' With China Were Set Against Backdrop Of Turnover, Upheaval In Xi's Cabinet
Hours of "constructive talks" between top US and Chinese officials on the island of Malta on Sunday were done in secret. The delegations spent 12 hours together in total for the two day intense talks.
A note from Rabobank says there's more than meets the eye, given some recent unexplained upheaval in Xi's administration [emphasis ZH]...
Chinese Foreign Secretary Wang Yi met with US National Security Advisor Sullivan in Malta over the weekend in the latest attempt to soften US-China relations ahead of a possible meeting between Presidents Biden and Xi.
The Malta meeting comes four months after a secret meeting between Chinese and US officials in Vienna. In view of Xi's absence from the recent G20 meeting in India, and the tensions between the US and China, there is concern as to whether he will show for the APEC gatherings in San Francisco in November. 
The Malta meeting has taken place at a time of rising speculation about the transparency, and possibly, durability of Xi's leadership. A second Chinese minister has reportedly been removed from public view. Defense Minister Li Shangfu has apparently disappeared, this follows the absence of former Foreign Minister Qin Gang.
The disappearance of another Minister raises concern about Chinese politics

Chinese Defense Minister Li Shangfu recently addressed a China-Africa security forum in Beijing, stating that the world was entering a new phase of "instability." However, concerns are emerging regarding… pic.twitter.com/wz6lBOYI8u

— Spotlight on China (@spotlightoncn) September 18, 2023
* * *
A follow-on readout from Sullivan's office described the Malta talks as "part of ongoing efforts to maintain open lines of communication and responsibly manage the relationship." 
It said "The two sides had candid, substantive, and constructive discussions, building on the engagements between President Biden and President Xi in Bali, Indonesia in November 2022." Listed among key topics of discussion were global and regional security issues, including in the Taiwan Strait, as well as the war in Ukraine.
The Biden administration has previously expressed concern that fraying relations and worsening communications could lead to "unintentional confrontation" if the spiral is not halted. 
A US official has told Reuters "there have been some small or limited indications" that Beijing is ready to reopen some cross-military communications with the Pentagon. The deconfliction hotline was severed following the August 2022 visit of then House speaker Nancy Pelosi. 
Also, could Gen. Mark Milley's weekend comments to "CBS News Sunday Morning" been an attempt to further defuse tensions by downplaying the February spy balloon incident? Certainly that had been another key moment that drastically worsened US-China relations.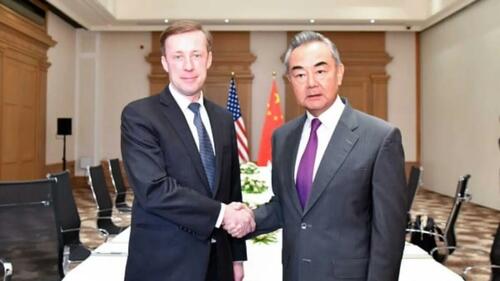 "The intelligence community, their assessment – and it's a high-confidence assessment – [is] that there was no intelligence collection by that balloon." Milley said, "I would say it was a spy balloon that we know with a high degree of certainty got no intelligence, and didn't transmit any intelligence back to China."
Likely the subject was broached in the Malta meetings between Sullivan and Wang Yi. Perhaps it's an attempt to bury the hatchet and get past the balloon drama. But interestingly, just on the heels of the Malta meetings...
Beijing and Moscow were expected to step up their strategic coordination as China's top diplomat Wang Yi kicked off a four-day visit to Russia for security talks ahead of a possible visit by Russian President Vladimir Putin next month.

China's foreign ministry announced on Monday that Wang, the Chinese foreign minister and a Politburo member who heads the Communist Party's foreign affairs office, will be in Russia until Thursday for the annual strategic security consultation meetings.
Beijing's foreign ministry further called this visit to the Russian capital "routine activity" - and it marks the Chinese top diplomat's second such visit to Moscow since February.
Loading...