---
Sweden Allows New Quran-Burning Demonstration Ahead Of NATO Summit
The Swedish government gave approval to organizers of a Quran-burning demonstration outside of a mosque in Stockholm on June 28.
The decision is expected to draw the ire of Turkey and hinder the Nordic country's potential NATO membership, as has happened previously.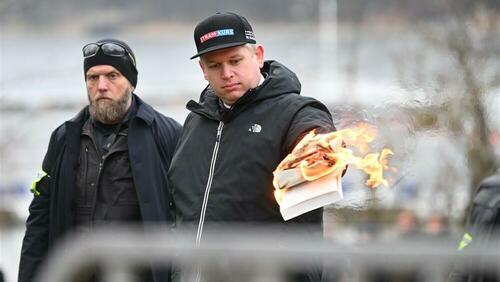 NATO officials are looking to admit Stockholm into the US-led alliance during the Vilnius Summit in Lithuania next month. Officials have previously clarified that not resolving Sweden's admission by July would send a dangerous and humiliating message to the security alliance's enemies.
Ever since Russia launched its military operation in Ukraine in February 2022, Sweden and Finland have sought to join NATO as a defense mechanism in the event that the war in Ukraine was to hypothetically expand into Europe.
Acquiring membership would require a unanimous vote from NATO's members, but Turkiye and Hungary have voted against the Nordic country's application.
Ankara has accused Helsinki and Stockholm of harboring members and supporters of the PKK and its Syrian offshoot, the People's Protection Units (YPG), which Turkey deems as terror organizations.
At the end of March, Turkey granted Finland eligibility to join NATO. Sweden's admission is still pending.
Despite high expectations for Stockholm in relation to the upcoming summit in July, Turkish President Recep Tayyip Erdogan recently shot down the prospects of Sweden joining NATO over Stockholm's failure to uphold several of Ankara's requirements for joining the security alliance, such as recently permitted supporters of the PKK to demonstrate on the streets of its capital.
Turkey has previously condemned the Swedish authorities for allowing a far-right anti-immigrant group to burn several Qurans outside of the Turkish embassy in Stockholm earlier this year, which resulted in Ankara stalling its decision to permit the country into NATO. 
Swedish Prime Minister Ulf Kristersson described the act of burning the Quran as "extremely serious" and an attempt to sabotage the nation's NATO application. 
Loading...