---
Taiwan Says It Detected A Record 16 Chinese Warships Around Island
Authored by Dave DeCamp via AntiWar.com,
China sent a record number of warships around Taiwan in a single day last week, topping a previous high set when the Chinese military responded to then-House Speaker Nancy Pelosi's visit to the island in August 2022, The South China Morning Post reported.
The Taiwanese Defense Ministry said that it detected 16 Chinese People's Liberation Army (PLA) ships operating around Taiwan on Friday, although it's not clear how close they came to the island. After Pelosi's visit, the PLA sent 14 vessels around the island for drills that simulated a blockade.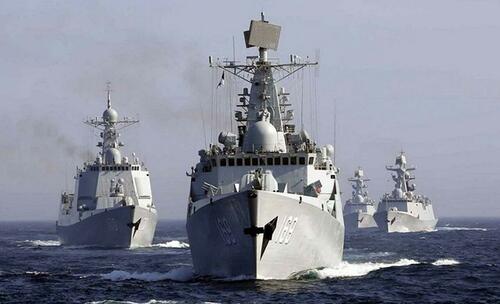 In April, when Taiwanese President Tsai Ing-wen met with the current House speaker, Kevin McCarthy, China also conducted large-scale exercises around Taiwan and sent 12 PLA warships to the area.
Major Chinese military exercises around Taiwan are typically done in response to actions the US takes with respect to Taiwan, and Washington has continued to boost ties with Taipei despite Beijing's position.
It's not clear if there was a single event that sparked the PLA's decision to send 16 warships around the island.
Global Times, a Chinese state media outlet, mentioned that the PLA warship activity came as the House passed its version of the 2024 National Defense Authorization Act, which includes provisions to boost military ties with Taiwan, and after NATO issued a communiqué at its summit in Vilnius that took aim at China.
China is war gaming an amphibious assault on Taiwan.

- Ongoing, unannounced major military exercises
- 16 warships encircled Taiwan, a single day record, & 100+ in July
- Northern & Southern Theater forces participate
- 250 sorties with fighter jets & bombers

Latest updates 👇 pic.twitter.com/grBHqB5XUI

— Ian Ellis (@ianellisjones) July 16, 2023
Taiwanese media said the record number of Chinese warships came after a few days of steady PLA activity around Taiwan.
Loading...