---
Terror Attack Outside Syrian Capital Leaves Over Two Dozen Casualties
At least six were killed and over 20 wounded Thursday evening after a massive explosion near the Shia Muslim shrine of Sayyida Zaynab on the outskirts of the Syrian capital Damascus, coming just one day ahead of Ashura. 
According to Syria's Interior Ministry, the blast happened after a motorcycle exploded near a car.  Earlier reports by state media suggested that a bomb was placed in a taxi cab by unknown assailants.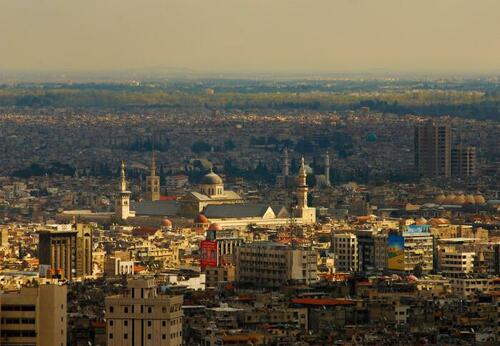 Women and children were reportedly among the casualties, a Syrian official said. 
"A woman was killed, and her three children were injured by the explosion of a bobby-trapped car which hit a site in front of Sayedat Al-Sham hotel in Sayeda Zeinab city in Rif Dimashq," the opposition-linked war monitor, the Syrian Observatory for Human Rights (SOHR), cited an official as saying. 
Photos and videos on social media showed chaos on the streets as people carried the wounded.
The explosion came just a day ahead of the tenth day of Ashura commemorations, where Shia Muslims remember the death of the Islamic prophet's grandson Husayn ibn Ali and the captivity of his granddaughter Sayyida Zaynab in Damascus. 
The days leading up to Ashura are a time of mourning, and people make daily visits for prayer at the Sayyida Zaynab shrine. 
The brutal attack also comes in the aftermath of regional normalization with the Syrian government, which has stood in the way of Washington's ambitions in Syria.
ICYMI: After years of 🇬🇧UK-🇺🇸US-🇪🇺EU sponsorship of Al Qaeda & ISIS, today as the BRICS/SCO nations look to investing in #Syria, a lethal explosion detonates in Koua Al-Sudan Street in Sayeda Zainab in Southern #Damascus. pic.twitter.com/jx9yFg2bFO

— Afshin Rattansi (@afshinrattansi) July 27, 2023
Throughout the war on Syria, which began in 2011, western-backed, sectarian-driven extremist groups carried out various bombings and suicide attacks at Sayyida Zaynab shrine. 
In 2016, two bombings at the shrine took place within one month of each other, one in January and the other in February. The death toll of both combined attacks was not less than 200. 
Loading...