---
Trevor Reed, Ex-Marine Freed In Russian Prisoner Swap, Turns Up Wounded In Ukraine
Trevor Reed was the US-declared "wrongfully detained" American military veteran released by Moscow in an April 2022 prisoner swap. He had spent three years of a total nine-year sentence a Russian jail, allegedly for injuring a police officer while intoxicated in 2019.
He and the US government had always maintained these were trumped-up charges, but it still led to Washington giving up Konstantin Yaroshenko, a Russian smuggler convicted of conspiring to import cocaine, during the prisoner swap. Reed's declining health at the time also gave some urgency to the effort to free him. US officials had spent months negotiating the deal with the Kremlin, awkwardly while the Ukraine war raged in its opening months.
So one would think that after that ordeal, he would stay out of trouble or at least make wiser decision when abroad...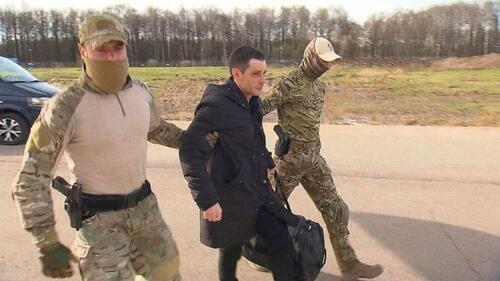 In a bizarre twist to a story that appeared finished, Reed - a former Marine - has turned up in Ukraine. What's more is he was injured while fighting on behalf of Ukraine, a Biden administration official has confirmed Tuesday.
While it's unclear when or where he was wounded inside Ukraine, the State Department in its fresh announcement sought to emphasize that he was "was not engaged in any activities on behalf of the U.S. government," according to spokesperson Vedant Patel.
Reed "has been transported to Germany and he is receiving medical care," Patel said, describing than an NGO helped him get out of Ukraine.
According to details in The Messenger, which was the first to report the news Tuesday...
The officials, who spoke under condition of anonymity due to Defense Department regulations, said they did not know the extent of Reed's injuries but said he had suffered shrapnel wounds from the explosion. One of the sources said Reed was being treated in the Ukrainian capital, Kyiv, and had requested transfer to an American military facility in either Germany or Poland. 

The sources also said that U.S. officials have privately expressed frustration over Reed's case, in part because of regular State Department warnings to American citizens against travel to Ukraine, and especially given the lengths the U.S. went to free Reed from a Russian prison. 
The report indicates his case could have proven an embarrassment both for Ukraine and the US:
At some point in the last year, Reed joined a group of outside freelancers fighting on the side of the Ukrainian resistance against Russia. Thousands of Americans - it's not clear exactly how many - are believed to have made the journey to fight in Ukraine.

The officials said that after Reed was injured, he wanted to return to the U.S. but was prevented from doing so due to an issue involving his contract with Ukrainian forces. Reed then wanted to take his story to the press, the sources said, as a way to complain about his treatment in Ukraine and advocate for U.S. government help in his evacuation.

"[Reed] had to be talked off a ledge about going to the media," said one of the U.S. military officials, but the threat of publicity has apparently helped.
BREAKING: Trevor Reed, a former U.S. Marine who was released from Russia in a prisoner swap last year, has been injured while fighting in Ukraine, the State Department said. https://t.co/JtqSXEsW5A

— The Associated Press (@AP) July 25, 2023
And for the kicker, a US military official said:
"My own interpretation is that he got what he wanted, he wanted help out of Ukraine, the [Biden] administration doesn't want negative Ukraine press, so he got help."
Early after the Feb. 2022 Russian invasion, there seemed to be quiet support or even enthusiasm from Washington (and much more open enthusiasm from UK officials) for Ukraine's foreign legion. Young men, especially military veterans, traveled there in droves. 
But increasingly, Western authorities have discouraged it, especially given the prospect of it potentially resulting in more US/UK citizens being killed or captured. 
Loading...