---
Trudeau Tried But Failed To Convince Allies To Condemn India Over Killing Of Sikh Leader
Canada says it is still investigating "credible allegations" linking Indian government agents with the killing of a Sikh separatist leader outside of Vancouver in June. Sikh leader and Canadian citizen Hardeep Singh Nijjar was shot dead in a parking lot by two masked gunmen outside a Sikh temple on June 18.
The accusation which was made public Monday by Canada's prime minister Justin Trudeau has sent relations with India to their lowest point in history. But India had formally designated Nijjar a terrorist starting in 2020, and while rejecting the accusation it has also said Canada is playing host to terror organizations. 
After a mutual expelling of top diplomats from either country, as of Wednesday India is warning its citizens to exercise caution when traveling in Canada in a new advisory.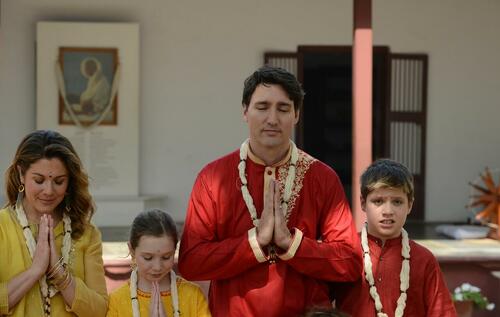 India's External Ministry published the warning which tells citizens and students in Canada that "growing anti-India activities and politically condoned hate-crimes" are one the rise.
The statement also tells Indians to stay away from venues and events where "threats have particularly targeted Indian diplomats and sections of the Indian community who oppose anti-India agenda," the ministry said.
Canada is simultaneously circulating its own updated advisory which requests that its citizens exercise "high degree of caution" when traveling in India. The message highlights the potential for "terrorist attacks" - in what's clearly intended as a punitive measure against New Delhi. 
"Exercise a high degree of caution in India due to the threat of terrorist attacks throughout the country," it states.
Trudeau is meanwhile attempting what looks like damage control amid the escalating diplomatic war. He says it's not his aim to "provoke" India in fresh statements:
"Canada is not trying to provoke India by suggesting its agents were linked to the murder of a Sikh separatist leader but Ottawa wants New Delhi to address the issue properly," Reuters quoted him as saying on Tuesday.

"The government of India needs to take this matter with utmost seriousness. We are doing that, we are not looking to provoke or escalate," he reportedly said. 
Trudeau had raised the issue with PM Modi during the G20 hosted in New Delhi. But it was also his efforts to convince Washington to stand by Canada's side which also got rebuffed, according to reporting in The Washington Post...
"Some of these allied nations, including the United States, however, declined to join Canada in jointly announcing the findings of the ongoing probe, underscoring the lengths the Biden administration has gone to avoid antagonizing India and court the Asian power as a strategic counterweight to China," WaPo wrote.
According to more from the Post, the Biden administration was not willing to go all-in on the accusation so as not to risk deepening the US relationship with India:
On Monday, Trudeau did not give specific evidence linking Indian operatives to the shooting but said Canada was looking into the killing with allied nations. The controversy comes at an awkward moment when Western nations, led by the White House, are looking to woo India as a geopolitical and trade partner and have refrained from criticizing Prime Minister Narendra Modi over India's authoritarian backsliding.
HUGE TURNAROUND AFTER MEGA SNUB? TRUDEAU ON BACKFOOT AFTER ABSURD CLAIM?

Canadian PM Justin Trudeau says ' We are not looking to provoke or escalate matters with India.' #JustinTrudeau #CanadaIndiaRelations #Canada pic.twitter.com/RC4UHcLtHZ

— Jan Ki Baat (@jankibaat1) September 20, 2023
Canada was strongly lobbying other allies as well, particularly among the "Five Eyes":
In recent months, Canada began pushing its closest allies, the members of the Five Eyes intelligence-sharing network - the United States, Canada, Britain, Australia and New Zealand - to raise Nijjar's killing with India at the highest levels of government and issue a joint statement condemning the act as contravening international norms, said a Western official who spoke on the condition of anonymity because of diplomatic sensitivities.

But several countries, including the United States, demurred, fearing a diplomatic backlash from the Modi government at a moment when India was due to hold a lavish coming-out party on the international stage, the G-20 Summit in New Delhi, the Western official said. Instead, the alleged assassination was privately raised by several senior officials from the Five Eyes countries in the weeks before the summit, which took place on Sept. 9 and 10.
Trudeau had in his Monday televised announcement before the House of Commons asserted that "Any involvement of a foreign government in the killing of a Canadian citizen on Canadian soil is an unacceptable violation of our sovereignty." Some pro-Indian commentators and media are questioning whether Nijjar is a Canadian citizen at all.
There remains the possibility the whole row could push India further away from the West when it comes to the Ukraine war, and into closer trade and economic cooperation with Russia and China.
Loading...