---
Trudeau Unveils C$650M More For Ukraine Defense As Zelensky Addresses Parliament
After leaving Washington, President Zelensky is in Canada, where entering the House of Commons alongside PM Justin Trudeau he was greeted to loud cheers of "Slava Ukraini".
Trudeau said this marked a "pivotal moment in history" and said of Zelensky there's "no better inspiration". Amid these flowery displays of admiration, Trudeau on Friday announced C$650 million more in military aid to Ukraine, set for a three-year period.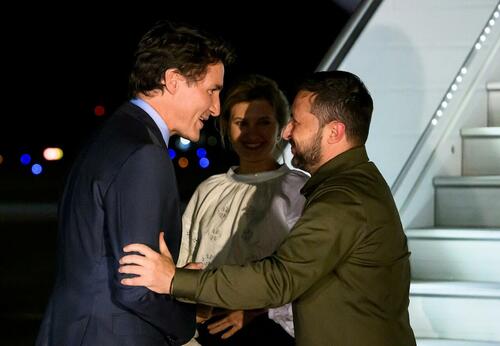 Trudeau also informed parliament, "We are providing funding to support mental health care in Ukraine," after which the assembly erupted in applause.
He then went after Putin, who he said has broken international norms which "protect our freedom". He added that "Putin governs with violence and oppression," but than Ukraine is mounting a fierce defense. "For a lasting peace we must oppose Putin," he added.
"We are all seeing a rise in disinformation, some state sponsored, some politically motivated that twists facts and refuses evidence and science. In this era of uncertainty, rules are what will protect us," Trudeau said.
Importantly, the Canadian leader then unveiled the "longer term multi-year commitment" to the value of 650m Canadian dollars ($482m), to included 50 armored vehicles.
He further said Canada's military is committed to training F-16 pilots and plane technicians, fresh on the heels of the US recently announcing its own program at American bases. According to the itinerary of the rest of Zelensky's trip: 
After addressing Parliament, Trudeau and Zelensky "will then travel to Toronto, where they will meet with Canadian business leaders to strengthen private sector investment in Ukraine's future." Canada has provided more than 8.9 billion Canadian dollars ($6.6 billion) since January 2022, in direct financial aid and military equipment, according to the office.
Ukrainian President Volodymyr Zelensky arrived in the House of Commons to the shout of "Slava Ukraini" and a long standing ovation and cheers.

He was accompanied by his wife, first lady Olena Zelenska, and Prime Minister Justin Trudeau.https://t.co/nLGDVjPPTj pic.twitter.com/AIRtcjYAxs

— The Globe and Mail (@globeandmail) September 22, 2023
Even though last year (Dec. 2022), Zelensky was able to address the US Congress in a major televised speech, he wasn't given that opportunity this year, at a moment GOP resisters have voiced disapproval for issuing more unlimited Ukraine aid. But Zelensky was given the opportunity Friday to address Canadian lawmakers on Friday in a live televised event, so at least there's that as a consolation... from Kiev's perspective.
Loading...