---
Trump & GOP Hawks Blast Biden For Handing Over $6BN To "Terrorist Regime" In Iran
More details have emerge of the major US-Iran deal to secure the release of as many as five detained US dual nationals, after President Biden has given formal approval, which was confirmed late Monday when he informed Congress. 
"When $6 billion of unfrozen Iranian funds are wired to banks in Qatar as early as next week, it will trigger a carefully choreographed sequence that will see as many as five detained U.S. dual nationals leave Iran and a similar number of Iranian prisoners held in the U.S. fly home," Reuters detailed, citing multiple diplomatic sources.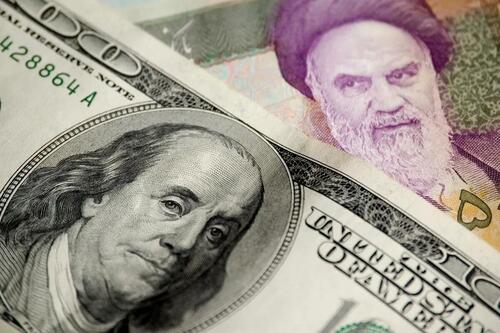 Already four of these US citizens have been transferred from Tehran's notorious Evin prison into house arrest, where they've been awaiting their freedom since Aug.10. It's unclear who the five Iranians are or what their current status is. So far it's known that 51-year old businessmen Siamak Namazi is set to be freed, as well as 59-year old Emad Sharqi and 67-year old environmentalist Morad Tahbaz, 67. The identities of the final two are not yet known.
Iran on Monday said the prisoner swap will happen "in the near future" - significantly also in return for $6 billion in previously frozen funds related to US sanctions specifically on the Islamic Republic's oil revenue.
"Iran initially wanted direct access to the funds but in the end agreed to having access via Qatar," a senior US diplomat told Reuters. "Iran will purchase food and medicine and Qatar will pay directly."
While US sanctions stipulate the funds can only be used for humanitarian purposes, Iranian President Ebrahim Raisi has told NBC that his country has sovereignty in this area and thus it will be spent "wherever we need it."
"This money belongs to the Iranian people, the Iranian government, so the Islamic Republic of Iran will decide what to do with this money," he said according to a translation. According to more of his response in an NBC interview: 
Asked if the money would be used for other purposes apart from humanitarian needs, Raisi said: "Humanitarian means whatever the Iranian people needs, so this money will be budgeted for those needs and the needs of the Iranian people will be decided and determined by the Iranian government."
The State Department has still sought to assure that "These funds will be moved to restricted accounts in Qatar, and the United States will have oversight as to how and when these funds are used."
This seems to be precisely what President Raisi is challenging. Raisi's somewhat defiant tone is likely to be seized upon by hawks in Congress as well as by the influential Israeli lobby.
For example Rep. Michael McCaul of Texas, chairman of the House Foreign Relations Committee, asserted that all the Americans held by Iran are "innocent hostages who must be released immediately and unconditionally."
"However, I remain deeply concerned that the administration's decision to waive sanctions to facilitate the transfer of $6 billion in funds for Iran, creates a direct incentive for America's adversaries to conduct future hostage-taking." He and others blasted the Biden White House for "demonstrating weakness that only further endangers Americans and freedom-loving people around the world."
Leading Republican presidential contender Donald Trump called Biden an "incompetent FOOL" in a written statement on social media for the "terrible deal" - which was announced on September 11.
Trump wrote: "Can you believe that Crooked Joe Biden is giving $6 Billion to the terrorist regime in Iran? That money be used for terrorism all over the Middle East, and, indeed, the World. This incompetent FOOL is absolutely destroying America. He had the audacity to announce this terrible deal today, September 11th. To pay for hostages will lead to kidnapping, ransom, and blackmail against Americans across the globe. I freed many dozens of our people from various unfriendly countries and never paid a dime!"
Israeli officials are also not happy...
U.S.-Iran Prisoner Deal: In exchange for 5 American prisoners, the U.S. will release $6 billion in frozen funds

'This is diplomacy of abduction and extortion by Iran,' says former Israeli Ambassador to the U.S. @DannyAyalon pic.twitter.com/mNVCbLNpW8

— i24NEWS English (@i24NEWS_EN) September 12, 2023
And Arkansas Senator Tom Cotton agreed, writing on X: "First Joe Biden used 9/11 as an excuse to flee Afghanistan. Now he desecrates this day by paying ransom to the world's worst state sponsor of terrorism. Shameful."
However, the $6 billion was Iran's own money in the first place, and was held chiefly in South Korean banks. Washington moved to get Seoul to freeze the funds as part of unilateral sanctions enforcement, which critics have decried as a form of international piracy, also as the US has literally taken over Iranian oil tankers on the high seas.
In contrast to the Iran hawks, one former State Dept official had this to say: "There are no good deals w/Iran. Only various degrees of bad ones. If you want to free 5 Americans some unjustly imprisoned for years, what's alternative? It's easy for some in Washington to hang tough, especially if they're not rotting in Evin prison."
Loading...