---
UK 'Discourages' Use Of Cluster Munitions, Says Sunak
Authored by Alexander Zhang via The Epoch Times,
Britain "discourages" the use of cluster munitions, Prime Minister Rishi Sunak has said after the United States agreed to send the bombs to Ukraine.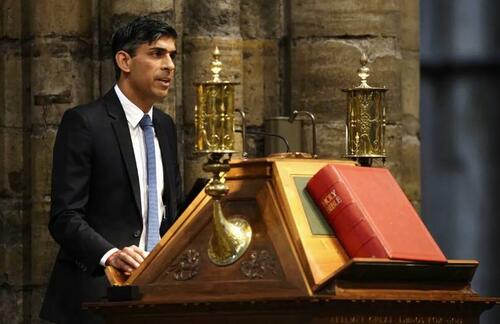 Mr. Sunak, who will be meeting President Joe Biden in London on Monday ahead of a NATO summit, said Britain is instead supporting Kyiv by providing tanks and long-range weapons.
Answering reporters' questions during a by-election campaign stop to Selby on Saturday, Mr. Sunak pointed to the UK's commitment to the Convention on Cluster Munitions.
"The UK is signatory to a convention which prohibits the production or use of cluster munitions and discourages their use," he told broadcasters.

"We will continue to do our part to support Ukraine against Russia's illegal and unprovoked invasion, but we've done that by providing heavy battle tanks and most recently long-range weapons, and hopefully all countries can continue to support Ukraine."
He added:
"Russia's act of barbarism is causing untold suffering to millions of people.

"It's right that we collectively stand up to it and I'll be heading off to the NATO summit next week in Vilnius, where we will be discussing exactly this with our allies how we can strengthen our support for Ukraine," he said.
Controversial Weapons
The United States said on July 7 that it will send "cluster munitions" to Ukraine in its ongoing fight to drive Russian forces out of the country.
But the use of cluster bombs is making some NATO allies uncomfortable.
After they are fired, cluster munitions open in midair and release small bombs (bomblets) over a wide area to strike several targets simultaneously.
Human Rights Watch, and other humanitarian organizations, oppose the devices because some of the bomblets don't explode when they are deployed. This unexploded ordinance presents a hazard to civilians, especially children.
More than 100 countries, including the UK and several other NATO members, are part of the Convention on Cluster Munitions, but the United States and Russia are not party to the treaty.
You will find more infographics at Statista
U.S. national security adviser Jake Sullivan said on July 7 that it's estimated that Russian forces have dispersed "tens of millions" of the bomblets in their attempt to take over Ukraine. He said that the "dud rate," the number of bomblets that fail to explode, is between 30 and 40 percent.
Considering the danger already present from Russian bomblets, the decision was made that the Ukrainians have the right to defend their land with whatever weapons they deem necessary, Mr. Sullivan said.
Colin Kahl, Under Secretary of Defense for Policy, said the U.S. munitions have a dud rate of 2.5 percent.
Mixed Views
There are mixed opinions on the U.S. decision to send the controversial munitions to Ukraine.
Former Prime Minister Boris Johnson gave his full backing to Mr. Biden, calling his decision "difficult but brave."
"He is right. These are terrible weapons. But they have been used by Putin for over a year in his programme of indiscriminate slaughter of an entirely innocent people," the former MP said.

"The faster we help the Ukrainians to win, the more lives we will save all round. And never forget—it is the Ukrainians who will use these weapons on their own soil, and to protect themselves," he said.
But Tobias Ellwood, the Conservative chairman of the House of Commons Defence Committee, urged Washington to "reconsider."
He wrote on Twitter: "This is the wrong call and will alienate international good will. Their use leaves deadly unexploded ordnance over the battlefield, killing & injuring civilians long after the war is over."
The opposition Labour Party also opposes the move.
Labour's shadow chancellor Rachel Reeves told Sky News on Sunday: "We all agree that Ukraine needs to be properly armed to fight Russia and their illegal invasion.
"But I am concerned about the use of cluster bombs, and it is not just the UK who has these concerns, other countries clearly do as well," Ms. Reeves said.
"While I support President Biden's desire to ensure Ukraine is fully armed to fight Russia, I am not convinced that these are the appropriate weapons," she added.
Loading...