---
Ukraine Boosts Defenses In North As Satellite Images Show Likely Wagner Base In Belarus
Ukrainian President Volodymyr Zelensky has ordered his armed forces to bolster defenses in the northern sector of the country near Belarus, days after Wagner Group leader Yevgeny Prigozhin was exiled there after leading a mutiny.
"The decision … is for Commander-in-Chief [Valeriy] Zaluzhnyi and North commander [Serhiy] Naev to implement a set of measures to strengthen this direction," Zelensky announced on Telegram.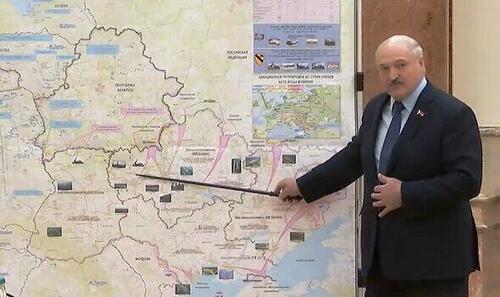 He said Kiev held an urgent national security meeting concerning the situation in Belarus, which lies just to the north of Ukraine, and early in the conflict had been a staging ground for Russian forces.
Prigozhin reportedly arrived in Minsk on a private jet on Tuesday, which was confirmed by President Alexander Lukashenko. The Belarusian leader had helped mediate a deal which resolved the internal Russian crisis peacefully, but which Washington has claimed left Putin "weakened". 
Putin in a speech earlier this week indicated he would stick by the deal made which allows Wagner mercenaries to sign contracts with the defense ministry, or else they can go to Belarus, according to the statements. 
While there's been nothing in the way of confirmation that a large-scale movement of Wagner fighters have crossed into Belarus, Western media reports are on Friday referencing satellite images which they say suggests new Wagner encampments on Belarusian soil: 
The satellite image appears to show activity at a disused military base about 13 miles (21km) from the town of Asipovichy - around 64 miles from Minsk, the capital of Belarus. The area has been reported in Russian media as a place which could house Wagner fighters.

BBC Verify has identified over 300 tent-like structures erected within the past two weeks.

A satellite image from 15 June shows none of these structures visible. The most recent high-resolution image we've obtained is from 30 June and reveals the extensive work being carried out at the base.
Satellite imagery show several hundred tent structures have appeared in a disused & secluded #Belarus military base - maybe for use by Wagner troops. Next to village of Tsel, base is 100km southeast of capital Minsk & around 200km from #Ukraine's border. https://t.co/Rdtmh6NOxy pic.twitter.com/wPRqvg61Y7

— Glasnost Gone (@GlasnostGone) June 30, 2023
But BBC cautions that, "It's not possible to confirm that these new structures are intended to house Wagner forces, but the leader of Belarus, Alexander Lukashenko has agreed to accommodate them."
Meanwhile, on Friday Russian foreign minister Sergei Lavrov vowed that Russia will emerge "stronger" after the failed uprising, which saw some limited exchange of fire, including helicopter shootdowns by Wagner which killed Russian air force pilots. 
Ukraine's top general says there was no noticeable battlefield effect in Ukraine from the rebellion contrary to a million Western pundits. pic.twitter.com/NuYD7KqRLh

— Max Abrahms (@MaxAbrahms) June 30, 2023
"Russia has always overcome all its problems... it comes out stronger and stronger," Lavrov told a press briefing. "It will be the same this time, too. This process has already begun," he stressed. 
Lavrov also said that Moscow doesn't owe an explanation to the West. "Thank you for your concern about our national interests, but you shouldn't be worried," he told a foreign journalist in response to a question.
Loading...