---
Ukraine Claims It Foiled Major Assassination Plot Against Zelensky
Ukraine's security services say they have thwarted a major assassination plot which targeted President Volodymyr Zelensky, according to the country's Secret Service (SSU) on Monday.
A woman who lives in Ochakov in southern Ukraine has been arrested, allegedly for planning to inform Russian intelligence of Zelensky's precise whereabouts as be visited the Mykolaiv region where the southeastern front with Russian forces is located. Security officials say she was "caught red-handed".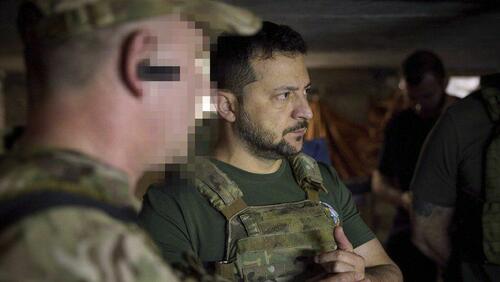 The SSU described that the detained woman, who hasn't been identified, worked on a military base as a clerk in one of their military stores. 
She's accused of "gathering intelligence" in order to pass the info along to her Russian handler so that a large-scale airstrike could be executed, specifically during Zelensky's trip to the region in late July. He had at that time visited a medical facility in Ochakiv along with other places in the southern region.
She was caught in the act, Ukrainian officials allege, with Ukraine media sources saying "The suspected Russian agent tried to find out the schedule of the presidential route in the region.
"The SBU managed to stay ahead of her actions and caught her in the act," one Ukrainian media report reads. "She also traveled to photograph electronic warfare systems and ammunition warehouses in the area near Ochakiv on the Black Sea coast, as well," it alleges further.
Ukrainian intelligence officials say they received a tip about the woman's alleged activities, which included mapping out the locations of key military locations and filming sensitive facilities.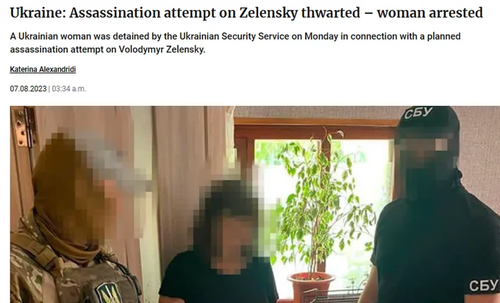 Kiev officials have in the past during the conflict indicated there have been multiple assassination plots against the president uncovered and thwarted. But this case appeared to be the most serious, as the woman was caught "trying to pass intelligence to the invaders" in preparation for airstrikes which would coincide with Zelensky's visit.
In March, Ukrainian presidential adviser Mykhailo Podolyak went so far as to suggest Zelensky has survived over a dozen assassination attempts.
Many outlets have reported a foiled assassination attempt against Zelensky according to Ukraine.

It is definitely possible but I've learned to be skeptical about the veracity of Ukraine's official statements especially ones related to attacks where lies have been so common.

— Max Abrahms (@MaxAbrahms) August 7, 2023
"Foreign sources talk of two or three attempts. I believe that there have been more than a dozen such attempts. We are constantly receiving intelligence that there are certain reconnaissance groups trying to enter government quarters and the like," Podolyak has previously been quoted in Ukrainska Pravda as saying.
But these dramatic stories of thwarted plots also tend to be coupled with desperate appeals for more weapons and funding from the West. However, it is likely that there really are threats and plots against the Ukrainian leader given there's an active war unfolding, even if perhaps accounts are exaggerated in some instances—also for the purpose of Western media consumption.
Loading...