---
Ukraine Says Drone Attacks To "Increase In Scale" After Overnight Moscow Attack
Russia's Foreign Ministry has denounced "an act of international terrorism" by Ukrainian forces after a drone attack on Moscow which damaged multiple buildings in the city's center.
The defense ministry had described that "electronic warfare systems jammed two Ukrainian drones, causing them to crash," and that no one was hurt, however with images showing significant damage to at least one non-residential building.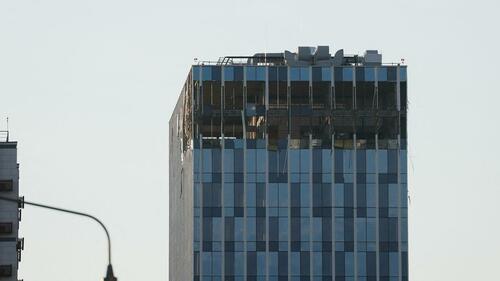 TASS observed that UAV fragments were also found in a center district not far from the Defense Ministry headquarters, with the ministry further calling it at "attempt by the Kiev regime to carry out a terrorist attack using two unmanned aerial vehicles" in the early hours of Monday morning.
"While the drone itself hit a non-residential building, several windows in residential buildings in the area were reportedly blown out by the blast wave," state media reporting described. 
"The second drone apparently hit a high-rise building in southern Moscow which hosts the office of French home improvement chain Leroy Merlin," the report detailed. The attack resulted in traffic halted and road closured in the area as emergency vehicles responded.
The company Leroy Merlin, located at one of the buildings which came under attack, has been accused of supplying the Russian military...
🚨 BREAKING: A Ukrainian kamikaze drone has attacked a civilian high-rise in Moscow.

The building contained a Leroy Merlin, the French equivalent of Home Depot.

The chain was recently accused of supplying the Russian army: a likely the motive for the attack. 🚨 pic.twitter.com/d1LtZyXujS

— Clint Ehrlich (@ClintEhrlich) July 24, 2023
While Moscow has been subject of small drone attack at sporadic points throughout the Ukraine war, such attacks on the capital have remained rare.
Andriy Yusov, spokesperson for Ukraine's military intelligence, in a rare moment of Kiev taking responsibility for an operation deep inside Russian territory said the drones "testify to the fact that the Putin regime is unable to fully control the sky even for the protection of the most important facilities."
"Obviously, this situation will continue and increase in scale," Yusov added.
Belgorod and other border regions, as well as Crimea, have continued to be subject of much more frequent attack by Ukrainian forces.
Smoke billows from business building in Moscow after drone attack#Moscow #MoscowDroneAttack #Russia pic.twitter.com/EHIELaND4j

— Ruptly (@Ruptly) July 24, 2023
Russian Security Council Deputy Chairman Dmitry Medvedev on Monday called for severe retaliation for the attempted Moscow attack, saying the military should select "non-standard targets" to exact revenge.
A well-known Ukrainian presidential adviser to Zelensky is meanwhile celebrating the drone attacks...
A boomerang always returns to its throwers. Even if they are convinced of their own impunity, hiding under the cover of anonymity in the safe houses of special organizations thousands of kilometers away from the active front. Justice has long arms. What do the mysterious "drones"…

— Михайло Подоляк (@Podolyak_M) July 24, 2023
He angrily denounced what he called the "Banderite bastards" who are increasingly "choosing peaceful civilian targets for their despicable attacks."
"We also need to select non-standard targets for our strikes, not just storage sites, energy hubs and oil bases. There are other places where nobody would be expecting us and where strikes would have a widely felt impact," Medvedev added.
Loading...