---
Ukraine's Defense Chief Expected To Be Sacked Next Week Amid Corruption Probe
Significant rumors are once again swirling over the possible imminent sacking of Ukraine's defense minister, with Bloomberg also reporting.
Defense chief Oleksiy Reznikov has overseen a series of embarrassing military corruption scandals at a time Kiev is trying to tout its democratic and corruption reform credentials. He could be dismissed from the top post as early as next week, and given a new role as ambassador to the United Kingdom.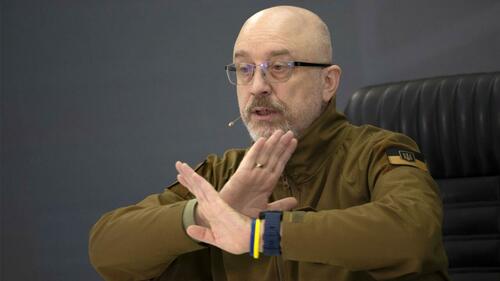 But the decision is "not finalized" according to sources speaking to Kyiv Post, which names Rustem Umerov – currently head of the State Property Fund – as a likely candidate to replace Reznikov.
DM Reznikov has overseen Ukraine's military and defense strategy since the start of the Feb. 2022 invasion, but the much-hyped counteroffensive launched at the start of the summer has been widely seen as a failure, despite tens of billions of dollars of Western aid and weaponry.
Reznikov is now front and center in an anti-graft probe, Bloomberg writes, citing local Ukrainian media:
President Volodymyr Zelenskiy's anti-graft crackdown is fueling speculation that he may dismiss Ukraine's defense minister following accusations of corruption linked to procuring military supplies.

The Ukrayinska Pravda newspaper, citing sources it didn't name, said on Thursday Minister Oleksii Reznikov may be replaced as early as next week. The report followed accusations from anti-corruption activists and media that under his leadership the ministry has purchased food and uniforms at inflated prices. It also coincides with comments from a lawmaker that Reznikov may be shifted to the post of Kyiv's ambassador to the UK.
Additionally, parliament's People's Deputy Yaroslav Zheleznyak, wrote in a Thursday Telegram post that "…Rustem Umerov will be nominated for the position of Minister of Defense." 
Kyiv Post has detailed the latest scandal as follows:
The latest scandal was exposed by Ukrainian journalist Yuriy Nikolov who, citing sources at the State Customs Service of Ukraine, reported that the Ministry of Defense had acquired 233,000 winter jackets for $20 million from a Turkish firm.

Documentation from customs regarding one shipment unveiled a startling increase in cost for a batch of 4,900 jackets en route from Turkey to Ukraine.

The price had tripled, soaring from $142,000 to $421,000 (a per-unit rise from $29 to $86). Furthermore, it was revealed that the jackets, despite being marketed as winter wear, turned out to be lightweight.
Ukraine Rocked By Corruption Scandal, Wave Of Top Officials Resign: Sports Cars, Mansions & Luxury Vacations As People Suffered https://t.co/5gvsXbIkNx

— zerohedge (@zerohedge) January 24, 2023
High-ranking military officers and Kiev officials have for months come under scrutiny for driving expensive luxury cars and acquiring expensive villas. 
The Ministry of Agriculture has also recently been under fore for inflated pasta purchases, which caused a reported loss for state coffers of at least $1.7 million, and triggering suspicions that corrupt officials lined their pockets.
Loading...