---
Ukraine's Fate Will Be Decided In Coming Year, Top Zelensky Aide Admits
In surprisingly blunt words, a top aide to Ukrainian President Volodymyr Zelensky has warned that the coming year will essentially decide the fate of Ukraine and its war with Russia.
"A turning point in the war is approaching," Andrii Yermak, who serves as chief of staff for the Office of the President of Ukraine, said Monday. "The next year will be decisive in this regard." He issued the words while appealing for more urgent aid from Washington in an address to the hawkish DC-based Hudson Institute think tank.
Yermak sought to assure the audience that Zelensky has "a clear plan" forward even as Western media has by and large soured on Kiev's prospects for success. Much of this is about Zelensky sending envoys to do damage control in Washington at a moment the US administration's focus is off Ukraine and on Gaza events instead.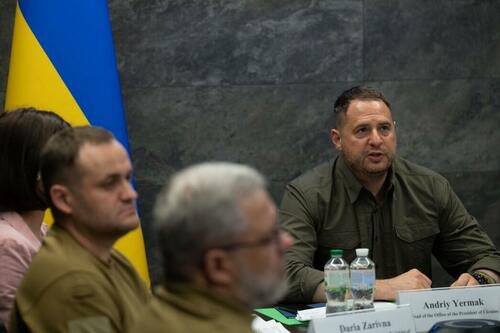 He described advancing plans for "the development of our defense industry, and the deploying of our own arms production. But [that] will be later."
But he quickly pivoted to an immediate need for more "weapons right now"--describing that "Russia still has air superiority. It is still capable of producing missiles, doing evasion of sanctions…And we especially need air defense systems."
Without doubt, the Zelensky admin is in damage control after eyebrow-raising comments were issued to The Economist early this month by Ukraine's top commander, who admitted there will be no breakthrough and the battlefield situation is in a stalemate. The New York Times had characterized his remarks as "the first time a top Ukrainian commander said the fighting had reached an impasse."
So now Zelensky appears to be dispatching his envoys to calm Washington jitters over all the "bad news" of late out of Ukraine. 
Yermak also sought to assure the Hudson Institute conference that more billions given to Ukraine won't be "charity" but is instead an "investment" in America's "global leadership."
He further emphasized Zelensky's continued rejection of ceasefire talks with Russia, unless it's purely on Kiev's terms. "We seek peace, but not just any peace. In our case, ending the war through compromise is nothing more than pausing it. Ukraine will not repeat the mistake of Minsk," Yermak said.
Watch the full Hudson Institute speech below:
Loading...